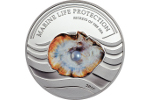 Жемчужина – на серебряной монете Палау (5 долларов)
Номинал монеты – 5 долларов, драгоценный металл – серебро 925-й пробы, качество чеканки – «пруф», масса – 25 г, диаметр – 38,61 мм, тираж – 2500 штук.

На аверсе монеты «Защита морской жизни. Жемчужина» отчеканено изображение щита, на котором показан Нептун, русалка, раскрытый сундук с сокровищами, роза ветров. В верхней части полукругом выгравирована надпись – «RЕPUBLIC OF PALAU». Под надписью изображена лодка катамаранного типа. В нижней части указан номинал – «5$».

На реверсе серебряной монеты расположена жемчужина. Она показана лежащей в центре раскрытой раковины. В верхней части реверса полукругом написано – «MARINE LIFE PROTECTION», «SECRETS OF THE SEA». В нижней части указан год эмиссии – «2013».

В сентябре 2012 года портал Gold10.ru анонсировал выпуск монет серии «Защита морской жизни» с изображением осьминога.