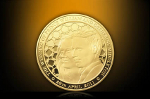 Королевская монета
Согласно сообщению Королевского монетного двора, новая монета весом в один килограмм выпущена ограниченным тиражом в 40 экземпляров.

На монете расположено изображение счастливой пары на фоне украшенного розами окна Вестминстерского аббатства, где состоится церемония бракосочетания. По кругу помещена надпись «THE WEDDING OF PRINCE WILLIAM AND CATHERINE MIDDLETON» и «29-TH APRIL 2011», обозначающая дату свадьбы.

Каждая монета помещена в красивую лакированную коробку из орехового дерева.

Монета номиналом в 1000 фунтов изготовлена из золота, имеет вес 1,096 г, диаметр — 100 мм.