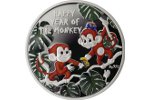 «Год Обезьяны» - монета серии «Восточный календарь»
Номинал монеты – 1 новозеландский доллар, драгоценный металл – серебро 925-й пробы, качество чеканки – «пруф», масса – 28,28 г, диаметр – 38,61 мм, тираж – до 5000 штук.
На аверсе монеты «Год Обезьяны» во внутреннем круге отчеканен портрет Ее Величества королевы Великобритании Елизаветы II. По кругу находятся надписи, разделенные точками: «ELIZABETH II», «NIUE», «ONE DOLLAR», «2016». Вдоль края монеты находится бусовый обод.
На реверсе
серебряной монеты
изображены две обезьянки (мальчик и девочка), играющие на дереве. У одной из них находится букетик желтых цветов. В верхней части монеты в три строки выгравирована надпись – «HAPPY YEAR OF THE MONKEY», справа указана проба металла – «Ag 925».