Coin "World of our children"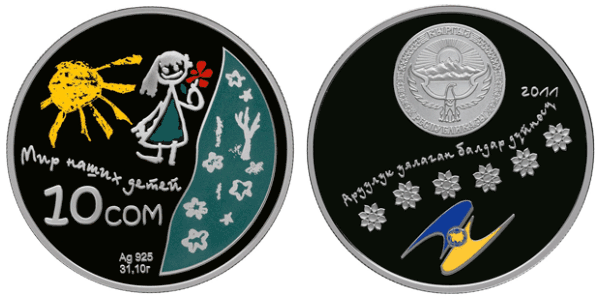 | | |
| --- | --- |
| Name | World of our children |
| Presented by | National Bank of the Kyrgyz Republic |
| Nominal value | 10 som |
| Metal | Silver 925° |
| Thickness | 3 |
| Mintage | 3000 |
| Production quality | Proof, with pad printing |
| Description of obverse and reverse | The main subject of the front side of the coin is a drawing of Asein kyzy Ayim, eleven years old girl – a winner of the competition of children's drawings. In her picture there is a smiling girl walking on the green lawn under the warm sun rays, with a bright flower in her hands. For the first time on the coins of the National Bank of the Kyrgyz Republic a pad printing technology was used for a full transfer of the whole palette of colors of children drawings. On the obverse of the coin there are inscription "World of Our Children", nominal value of the coin (10 som), the weight (31.1 g) and alloy (Ag 925) of the metal. Traditionally the reverse side represents a state emblem, year of issue and colored emblem of the Eurasian Economic Community. |
| A brief annotation | For the selection of the subject of the coin "World of Our Children" NBKR was conducting a republican competition of children's drawings of children younger than 14 years. Over 300 drawings from all regions were submitted for the competition. The most successful story reproducing the children's sense of the world was choosing from a variety of images painted with great warmth, inward purity and spontaneous. The subject shows the child's world, which is really it: light, with smiling faces, warm Sun and a multifaceted palette of colors. |
| Designer | Author subject: Asein kizi Aiym, a schoolgirl of 5 class. Author design: Murat K. Sagimbaev |
| Producer | Saint Petersburg Mint of Goznak (Russia) |
---

What is it all about? Is it about kids bank accounts for money saving? If that's the case I would love to hear about it from you. I am looking to open an account for my niece to save all her pocket money. Also, we are starting
last minute essay writing service
for all those students who are struggling to get good grades just because they don't complete their work on time.