Coin "Charles de Gaulle"
Please register to vote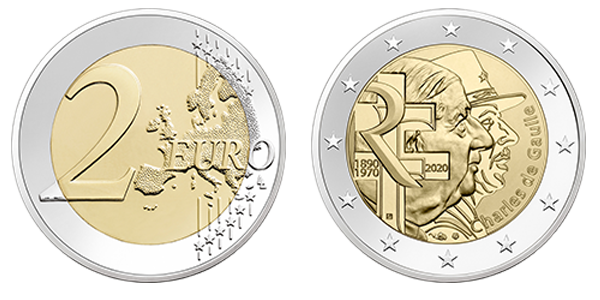 Name
Charles de Gaulle
Presented by
Monnaie de Paris
Nominal value
2 euro
Metal
CopperNickel
Weight
8,5 g
Diameter
25,75 mm
Mintage
18 061 940 pcs
Description of obverse and reverse
The obverse of the coin represents two profiles of Charles de Gaulle at two different times. The profile in the background shows Charles de Gaulle in army general's uniform during the call to arms of the 18th June 1940 or during the liberation of Paris. The profile in the foreground represents Charles de Gaulle during his second presidential term of office. Finally, the mention RF is semi-integrated in a Lorraine cross, symbol of free France chosen by General de Gaulle in 1940. 




The reverse is the same than all the common 2€ coins, similar to all the countries of the euro zone. The « 2 euro » face value appears in front of the european map.

A brief annotation
Charles de Gaulle, commonly known as General de Gaulle, is a French soldier, resistance fighter, statesman and writer. Born in Lille on the 22nd November 1890 into a Catholic and patriotic family, he entered the Saint-Cyr Military School and took part in the Great War, where he was wounded and taken prisoner in 1916 Iconic figure of free France during the Second World War, he was appointed Colonel in 1936 and then General four years later. Appointed as Secretary of State for National Defence and War, he learned on 16th June that Marshal Pétain wished to request an armistice. He then went to London to launch the call for resistance on June 18, 1940 through the BBC. With the support of Admiral Georges Thierry d'Argenlieu and Vice-Admiral Emile Muselier, he adopted the Lorraine cross in 1940 as the symbol of free France in opposition to the Nazi swastika. He then created a French National Committee to resist alongside the Allies. Inducted as President of the Council during the Algerian War, he succeeded in getting the Fifth Republic approved by referendum and became its first President. He was elected a second time on December 19th, 1965 After withdrawing from the presidency following a referendum, he retired to his property in Colombey-les-Deux- Églises, where he passed away eighteen months later, on November 9th, 1970.
Designer
Monnaie de Paris' Engraving Workshop
Producer
Monnaie de Paris
---

Красивая и по задумке, и по исполнению великому человеку: одному из последних самостоятельных президентов Франции.
Достаточно качественная европейская монета с интересно историческим дизайном посвящённой истории Франции.

обычная европейская юбилейка.Не победит!

Красивая монета, но буквы и профили французского деятеля несколько мешают друг другу