Coin "Horseshoe"
Please register to vote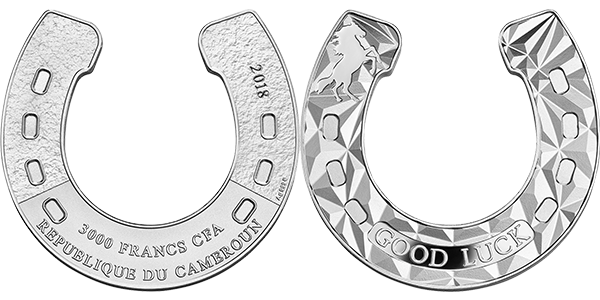 Name
Horseshoe
Presented by
Mint of Poland
Nominal value
3 000 CFA francs
Metal
Silver 999°
Weight
93,30
Diameter
65,85 x 69,85 x 14,85
Mintage
999
Production quality
Proof, faceted relief, horseshoe
Description of obverse and reverse
Obverse: in the central part of the coin – inscriptions: 3000 FRANCS CFA (face value), REPUBLIQUE DU CAMEROUN (issuer), Ag 999 (hallmark), M/W (mint mark) and 2018 (year of issue). 




Reverse: in the center – inscription: GOOD LUCK. In the left upper part – silhouette of a horse. In the background – geometric, decorative pattern.

A brief annotation
Since ancient times a horseshoe has been seen as a protective symbol. Nailed to a door, it was believed to keep evil forces away and bring good luck to the home it protected. A horseshoe with its ends pointing downwards is a powerful protective symbol warding off misfortunes and negative energy. Contrarily, when the ends of a horseshoe point upwards, it acts like a little storage container for any good luck that is floating by. Its magical properties are reinforced by the number seven, which, according to popular folklore, has the luck-attracting powers, too.
Designer
Urszula Walerzak
Producer
Mint of Poland
---

Wish You Luck

A lucky charm - perfect!
Нестандартная форма монеты в узнаваемом символе " удачи "

Сувенир,но не монета!

Quote
Дмитрий Дорохин пишет:
Сувенир,но не монета!
Каждый год есть сувениры в виде подковы
гвоздиков в комплекте нет ? а то прибил бы над дверью .