Coin "The Canadian Coin Collection"
Please register to vote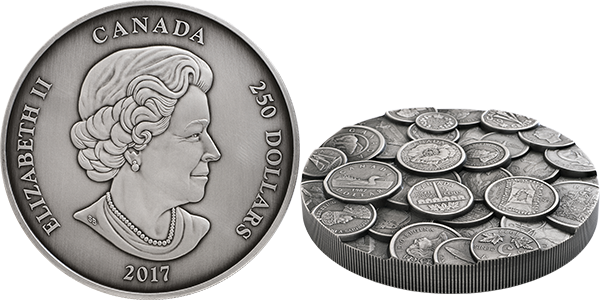 | | |
| --- | --- |
| Name | The Canadian Coin Collection |
| Presented by | Royal Canadian Mint |
| Nominal value | 250 dollars |
| Metal | Silver 999,9° |
| Weight | 1000 |
| Diameter | 102,1 |
| Thickness | 14,37 |
| Mintage | 500 |
| Production quality | Ultra High Relief on reverse |
| Description of obverse and reverse | The obverse features the effigy of Her Majesty Queen Elizabeth II. The reverse features reproductions of more than 35 historical Canadian circulation coins—all in the actual diameters of the originals. The designs featured include all of Canadian artist Alex Colville's 1967 Canadian Centennial designs; all current Canadian circulation designs, including the 1-cent piece whose production ended in 2012; the 2015 50th anniversary of the Canadian flag 25-cent piece; the legendary Voyageur dollar first released in 1935; each of the major obverses since the Royal Canadian Mint opened in 1908; the Victory Nickel of 1943 to 1945; the Celebrating Women's Right to Vote dollar, the Canadian Arctic Expedition 25-cent piece; the Canadian Poppy 25-cent piece; the Heroes of 1812 Laura Secord 25-cent piece; the War of 1812 2-dollar coin; the Canadian Conservation Series Wood Bison 25-cent piece; and the Remembrance Day 1994 dollar. |
| A brief annotation | To celebrate Canada's 150th birthday, our Research and Development team developed this unique ultra high relief 1-kilogram silver coin whose reverse reproduces reverses and obverses of Canadian circulation coins released over the last 150 years. Each coin featured on the reverse is represented in actual diameter. A stunning antique finish lends even more depth, detail, and patina to a never seen before. |
| Designer | Royal Canadian Mint engravers |
| Producer | Royal Canadian Mint |
---

Супер!Очень интересная монета!Выглядит очень реалистично!

Вот это мне нравится! Действительно, очень реалистично.

Эх полна-полна моя коробочка...
Так и хочется взять одну монетку сверху..
Единственное , что можно сказать - ультравысокий рельеф удался на отлично ..Плюсану этому килограммовому изделию..

Классная монета и реализация - на 100%. Монета достойна быть отмеченной на конкурсе. Килограммчик таких монет - и.... (полет фантазии неограничен).

1 кг.ходячки в одной монете!Сложно конечно назвать монетой.Интересно,кто собирает и как хранит такие гиганты)))В планшетик не запихнеш...

прикольно

Quote
Валентин Мурашкин пишет:
прикольно
Прикольно-это про Ваши коменты)))Очень содержательные!

Весомо!!!!