Coin "Martian Meteorite"
Please register to vote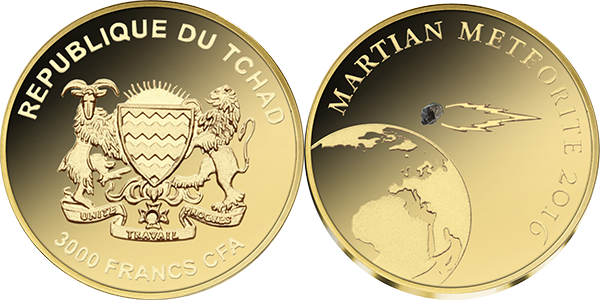 | | |
| --- | --- |
| Name | Martian Meteorite |
| Presented by | Numiscom GmbH & Co. KG (Germany) |
| Nominal value | 3000 francs CFA |
| Metal | Gold 999° |
| Weight | 0,5 |
| Diameter | 11,00 |
| Thickness | 1 |
| Mintage | 5000 |
| Production quality | Proof |
| Description of obverse and reverse | On the obverse of the coin is a coat of arms of the Republic of Chad, on the upper part is a semicircular inscription - "REPUBLIQUE DU TCHAD". In the lower part is the face value - "3000 FRANCS CFA". The reverse features a country with a Martian meteorite and above it is a semicircular inscription - "MARTIAN METEORITE". |
| A brief annotation | A Martian meteorite is a rock that formed on the planet Mars and was then ejected from Mars by the impact of an asteroid or comet, and finally landed on the Earth. Of over 61,000 meteorites that have been found on Earth, only 132 were identified as Martian. Proof came on October 17, 2013 when the NASA reported analysis of argon in the Martian atmosphere by the Mars Curiosity rover clearly identified these 132 meteorites as Martian. The majority of Mars meteorites are quite young compared to most other meteorites and seem to imply that volcanic activity was present on Mars only a few hundred million years ago. The young formation age of Martian meteorites was one of the early recognized characteristics that suggested their origin from a planetary body such as Mars. Though the term young can be misleading, as we are still speaking of an age of around 1 300 million years! Several Martian meteorites have been found to contain what some think is evidence for fossilized Martian life form and there are even some scholars who believe that life on Earth may have arrived as microbes on Martian meteorites. |
| Designer | Idea by Oliver Jungherr, Design by Vanessa Wulf, Realisation by Nina Kaminski |
| Producer | Numiscom GmbH & Co. KG (Germany) |
---

Ещё один метеорит. Неплохо.

Количество метеоритов на конкурсе зашкаливает. Точно новый тренд

Козёл на гербе чада напомнил мультик "Волк и семеро козлят".

Кусочек метеорита немного оживляет,а вообще ничего особенного.

купил бы

Quote
Валентин Мурашкин пишет:
купил бы
Так что мешает?Покупайте...