Coin "Alpine Edelweiss"
Please register to vote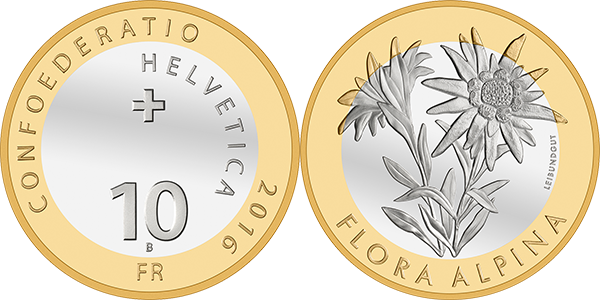 | | |
| --- | --- |
| Name | Alpine Edelweiss |
| Presented by | Federal Mint Swissmint |
| Nominal value | 10 swiss francs |
| Metal | Aluminium-bronze and copper-nickel |
| Weight | 15 |
| Diameter | 33 |
| Thickness | 3,5 |
| Mintage | 35 000 |
| Production quality | Proof |
| Description of obverse and reverse | The obverse shows two edelweiss blossoms, one in top view, the other from the side. The stems of the two flowers are provided with alternately arranged lanceolate leaves. Inserted in the outer yellow ring of the bimetal coin is the legend «FLORA ALPINA». Reverse: parallel to the edge the legend «CONFOEDERATIO HELVETICA 2016» step-like displaced in two lines; above of the centre the Swiss cross and at the bottom in three lines «10 / B / FR». |
| A brief annotation | The edelweiss, the symbol of the Alps, has achieved cult status. It symbolises beauty, desire, honesty, purity and courage. Contrary to popular belief, the Alpine edelweiss (Leontopodium nivale) is not at all a plant that is found only on steep rocky slopes. Although it also grows on rocky terrain, it feels much more at home in Alpine pastures, as it originated in high-altitude plateaus. Due to excessive picking, however, the flower was almost completely wiped out to the point that nowadays it is usually found only in areas that are difficult to access. |
| Designer | Jenny Leibundgut |
| Producer | Federal Mint Swissmint |
---

Скучно и невзрачно.Не для конкурса,на мой взгляд...
Скучный биметалл , с минимальной композицией ....

Монета не для конкурса

А мне нравятся швейцарские монеты. Композиция минимальная, но вполне удачная.
Quote
Сергей Журавель пишет:
А мне нравятся швейцарские монеты. Композиция минимальная, но вполне удачная.
Швейцарию ни с кем не перепутаешь. У них свой стиль.

Quote
Николай Тютин пишет:


Quote
Сергей Журавель пишет:
А мне нравятся швейцарские монеты. Композиция минимальная, но вполне удачная.

Швейцарию ни с кем не перепутаешь. У них свой стиль.
Стиль это уже неплохо. А он есть.

Интересная монета, хорошее сочетание металлов, красивое исполнение,
Несмотря на комментарии останусь при своем мнении
Quote
УСПЕХ пишет:
Скучный биметалл , с минимальной композицией ....

думаю народ будет брать)))))