Coin "Great White Shark with Tooth"
Please register to vote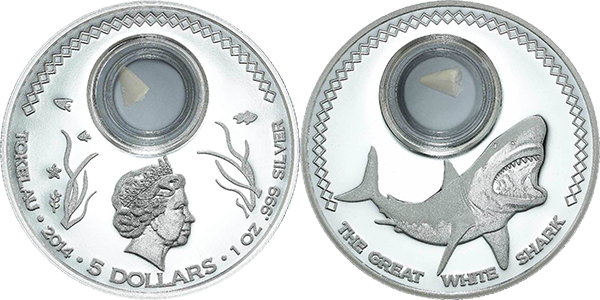 | | |
| --- | --- |
| Name | Great White Shark with Tooth |
| Presented by | Treasures of Oz Pty Ltd (Australia) |
| Nominal value | 5 new zealand dollar (Tokelau) |
| Metal | Silver 999° |
| Weight | 31,1 g |
| Diameter | 38,61 mm |
| Mintage | 1 000 pcs. |
| Production quality | Proof-like with Great White Shark Tooth Insert |
| Description of obverse and reverse | You won't need a diving cage to see a Great White Shark up close, because you can hold at least part of one of these amazing sharks in your hand with our Shark Tooth 1 oz Silver Proof Tokelau Coin. This stunning silver coin features an encapsulated shark tooth tip that allows you to see and own a piece of this legendary fish. The reverse of the coin also depicts the Great White Shark, his mouth open and ready to strike. Look closely and you'll see the rows of razor-sharp teeth. Sharks routinely lose rows of their teeth, which fall to the ocean floor or are washed up on beaches – and new ones grow in their place. The fossilized tooth in your coin was likely harvested from a sandy beach or ocean floor. This coin is minted to the highest quality, making the contrast between the Great White Shark and the mirrored field behind him really stand out. |
| A brief annotation | The Great White Shark is perhaps one of the greatest, most feared and most misunderstood predators in the world. These warm-blooded hunters are found in every ocean, and they have been discovered in sub-Antarctic seas as well as in saline bays and estuaries. At up to eighteen metres in length and weighing as much as 2250kg, these massive hunters bring with them a voracious appetite as they roam from ocean to ocean. They are on the hunt for food, and they eat a lot of it – eleven tons in a single year, whereas you or I might eat only thirty-five tons of food in a lifetime. Recent news stories and movies like Jaws would have us believe that we are a favorite menu item for the Great White Shark, but that's not really the case. The Great White Shark prefers pinnipeds. But take one look at the 300 or so rows of teeth in a single Great White Shark's mouth, and it's enough to make anyone cautious. People who want to see a Great White Shark up close do so only from the safety of a diving cage. It especially appropriate for the Shark Tooth Coin to be a Tokelau coin, since Tokelau's waters are a shark sanctuary in their Exclusive Economic Zone (EEZ), and this Pacific atoll is doing much to protect the thirty species of sharks living in their waters from becoming extinct due to hunting and fishing. |
| Designer | Treasures of Oz Pty Ltd (Australia) |
| Producer | B.H. Mayer (Germany) |
---
Кусочек зуба акулы в монете? Конечно не кости динозавра, но сойдет. Нормально. Вот изображение монеты что-то слабовато. Нет ощущения материальности объекта.
Сколько же акул пострадало? Вставки с каждым разом все необычные

Монета заслуживает быть отмеченной за оригинальный дизайн и необычную идею.
Quote
Григорий Малеев пишет:
Сколько же акул пострадало? Вставки с каждым разом все необычные
Предлагаю , создать монету зубная фея и в прозрачную капсулу вкладывать молочные зубы детей .....Во идея , а вы все про акул да акул ..