Coin "Four Aces"
Please register to vote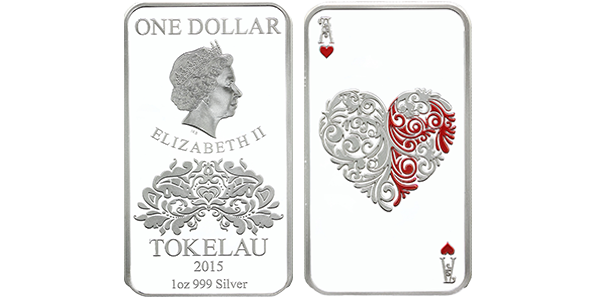 | | |
| --- | --- |
| Name | Four Aces |
| Presented by | Treasures of Oz Pty Ltd (Australia) |
| Nominal value | 1 new zealand dollar (Tokelau) |
| Metal | Silver 999° |
| Weight | 31,1 g |
| Diameter | 24 x 47 mm |
| Mintage | 500 pcs. |
| Production quality | Proof, color printing |
| Description of obverse and reverse | The obverse sides are embellished with a cameo of Tokelau monarch Queen Elizabeth II. The finely crafted design of the suit symbols in proof against a mirror table is partly highlighted in colour, a highly delicate process on such intricately detailed relief. Partially colourized in red or black on the reverse side, the coins are stunning pieces of art. Are seen as exceptionally good luck and, in fortune telling, for example, are an indication of good luck and a happy marriage! |
| A brief annotation | Playing cards have existed for millennia. The current card suits as we know them, Hearts, Clubs, Spades and Diamonds, are what is know as the French suit, and their origin can be traced back to one person – Étienne Vignoles. In the 1480s he developed the suit symbols using Cœurs, Carreaux, Trefles and Piques. These are the Hearts, Diamonds, Clubs and Spaces now well known in the English and French packs of cards. It was said that Cœurs, or Hearts, represented the Church, the holy men, symbolic of virtue; Carreaux, or Diamonds were arrowheads, symbolic of the vassals from whom the archers and bowmen were drawn; Trefles or Clubs, deriving from clover, represented the shepherds or husbandman; and Piques, the points of lances – Spaces, represented the knights. In early games the Kings were always the highest card, but by the late 14th century significance began to be placed on the lowest card, the One or "Ace" as we have come to know it. The practice was further popularized in the republican fervor of the French Revolution (1789 – 1799) where many more games began to be played 'Ace high'. The term Ace has since then come to represent excellence and the highest quality. It gives its name to such things as successful fighter pilots, unreachable tennis serves, and anyone highly proficient or an expert in their field. |
| Designer | Designer: Teodora Chinde |
| Producer | B.H. Mayer (Germany) |
---
Сомнительная идея. Азартные игры не гоже пропагандировать. Хотя описание понравилось. Много нового узнал.
Прикольно конечно изображение игральной карты, но не будет столь популярная такая монета
Смотрел - смотрел , зевнул ..стал дальше конкурсные монеты рассматривать ..

Интересное авторское решение соединить нумизматику и карты. Было бы необычно - если бы это стала целая серия, состоящая из карт четырех мастей.