Coin "The Universe"
Please register to vote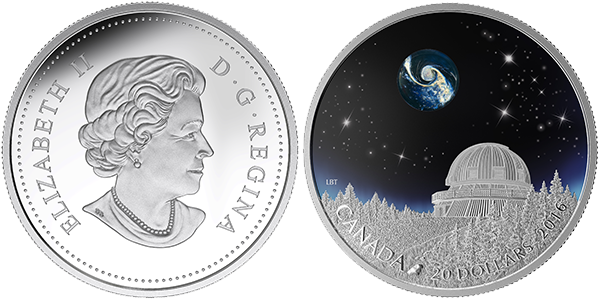 | | |
| --- | --- |
| Name | The Universe |
| Presented by | Royal Canadian Mint |
| Nominal value | 20 dollars |
| Metal | Silver 999,9° |
| Weight | 31,39 g |
| Diameter | 38 mm |
| Thickness | 3,3 mm |
| Mintage | 8500 pcs. |
| Production quality | Pad printing over engraving. Borosilicate glass embellishment |
| Description of obverse and reverse | The obverse features the effigy of Her Majesty Queen Elizabeth II by Susanna Blunt. The coin design and the borosilicate glass piece were created by Canadian artist Loïc Beaumont-Tremblay. He has re-created the forested setting of the Mont-Mégantic Observatory beneath a clear, star-filled sky. A globule of borosilicate glass shines with a stunning image of the universe that only came to light a few years ago. The round, crystal-clear qualities of the glass are akin to peering through a telescope lens, and its luminescence further enhances the viewer's experience of gazing into the galaxy. World's FIRST coin featuring a combination of colour and glow paint along with a specially selected borosilicate fine art coloured and glow glass! Each glass piece is a unique piece of art, crafted with a swirl of silver dust to create an image of the universe that is one-of-a-kind. Added luminescence in the colored sky captures the faint glow of the galaxy – a stunning effect that also shines from some of the stars. |
| A brief annotation | Pondering the universe is as old as the ages. It's the common thread that connects us to every civilization that has come before. And while today's high-tech world has brought greater understanding, new questions always arise, eyes still gaze upwards on starry nights, and we still wonder, "Who are we? Why are we here?" There are numerous observatories around the world probing the universe to find answers to humanity's ageless questions. Among them is the Observatoire du Mont-Mégantic, Québec. This coin pays tribute to a unique celebration of Canada's status as the first nation to possess an officially recognized dark sky reserve, a distinction that is a source of pride for Quebecers, particularly those living in the blackout region of Mont-Mégantic. |
| Designer | Loïc Beaumont-Tremblay |
| Producer | Royal Canadian Mint |
---
Вот это инновация, а то голограммы непонятно чего... Здесь хоть чувствуется идея и хорошее ее воплощение. Отличная монета.
Оформлено красиво!
Изображение галактики отвлекает взгляд от сюжета , что негативно сказывается на общем визуальном впечатлении от монеты ..

Монета достойна быть отмеченной высокой оценкой. Интересное воплощение идеи размышления о бесконечной Вселенной.