Coin "100th Anniversary of In Flanders Fields"
Please register to vote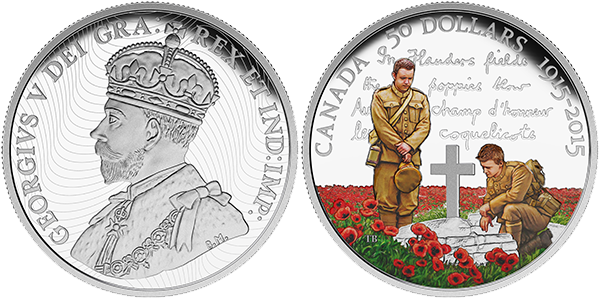 | | |
| --- | --- |
| Name | 100th Anniversary of In Flanders Fields |
| Presented by | Royal Canadian Mint |
| Nominal value | 50 dollars |
| Metal | Silver 999,9° |
| Weight | 157,6 g |
| Diameter | 65,25 mm |
| Thickness | 5,41 mm |
| Mintage | 1500 pcs. |
| Production quality | Pad printing over engraving |
| Description of obverse and reverse | Obverse: Effigy of King George V by Sir E. B. MacKennal (This was the ruling monarchy in 1917 when the poem In Flanders Fields was created). Reverse: This coin masterfully combines vibrantly colour with finely detailed engraving to create a stirring scene of remembrance at a soldier's grave. There is an unusual stillness in the air as two Canadian soldiers take the time to quietly remember a fallen friend and colleague, who lies buried far from home in a field that is resplendent with the red poppies described in John McCrae's poem, In Flanders Fields. With his head bent down and hat removed, one solemn soldier stands to the left of the stone grave; on the right side of the image, the second soldier kneels before the cross on one leg, his head bent down in quiet reflection. These two soldiers are among the many who will help carry the legacy left behind by the fallen; it is they who will "take up our quarrel with the foe" and who will carry out the call to action described in the lines "to you from failing hands we throw / The torch; be yours to hold it high." In the background, McCrae's handwritten first line of his famous poem is inscribed in both English and in French: "In Flanders fields where poppies blow" and "Au champ d'honneur, les coquelicots." |
| A brief annotation | This coin commemorates the 100th anniversary of Canadian John McCrae's famous poem, In Flanders Fields, which is often quoted or recited during annual remembrance ceremonies in many countries. The poem served as the inspiration behind the adoption of the poppy as a widely recognized memorial symbol, making this coin a fitting tribute to the brave Canadians who served their country in times of war—not only in the First World War, but in other conflicts that followed. |
| Designer | Tony Bianco |
| Producer | Royal Canadian Mint |
---
Вот почему когда появляется что-то стоящее, у них или малый тираж, или вес люка.
Не знаю... по мне такая тематика на монетах ни к чему
Двоякое мнение , вроде все к месту ... но эти избитые штампы скорбящего солдата , маки , могила сослуживца. Как говорил классик - Не верю , посмотрите монету посвященную геноциду армян - мощь !!!! а здесь очередная страница из учебника по истории для средних классов ...