Coin "China's Aerospace"
Please register to vote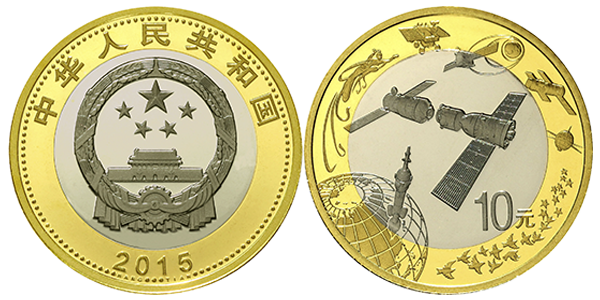 | | |
| --- | --- |
| Name | China's Aerospace |
| Presented by | China Banknote Printing and Minting Corporation (CBPM) |
| Nominal value | 10 yuan |
| Metal | Ring: brass; core: cupronickel clad |
| Weight | 9,10 g |
| Diameter | 27 mm |
| Thickness | 2,10 mm |
| Mintage | 100 million |
| Production quality | Circulating coin |
| Description of obverse and reverse | The obverse features national emblem of People's Republic of China. The reverse features the momentous achievements of China's aerospace. On the centre depicts the Shenzhou Ⅸ manned spacecraft was docking with TiangongⅠspace station in the vast outer space. The Long March carrier rocket was flying away from the earth, our common home, pushed by powerful engines. The flying fairy represents folk symbol of Chinese long standing flying dream. On the upper right part of the ring anticlockwise, displays milestones of China's aerospace industry: China's first satellite, first manned spaceflight, first satellite orbiting the moon, first landing lunar rover. Flying peace doves which are evolving into five-pointed stars indicate that china will adhere to the concept of peaceful exploitation of the space. |
| A brief annotation | Exploring into the space has always been the pursuit of Chinese people since ancient times. After several generations of continuous efforts China has made great achievements in aerospace. The mission of China' aerospace is to make peaceful exploitation of the outer space, and welcome the cooperation with the international community. It is firmly believed that Chinese achievements in this field will benefit to human beings. Although many spacecrafts are presented, with the help of design and new technology, combination of beauty, harmony, accuracy and importantly mass production are realized. |
| Designer | Jian Zhou, Yan Li, Changming Zhang (design draft); Huan Chang, Lili Fu, Yaxuan Jin, Zhuo Zhou, Zheng Tao, Changming Zhang (relief sculpture) |
| Producer | China Banknote Printing and Minting Corporation (CBPM) |
---
Китайцы - МОЛОДЦЫ !!!!!!!! , крепкие середнячки с порядочным дизайном , хотя казахи серию про космос делали намного лучше ...
Однозначно - ОТЛИЧНО!!! Казахи закончили с Космосом. Китайцы, берите эстафету! Если наши не проснуться.
Простенько, но китайцы берут объемом 100 миллионов тираж, жаль что не драгоценный металл