Coin "20 Years of Democracy in South Africa"
Please register to vote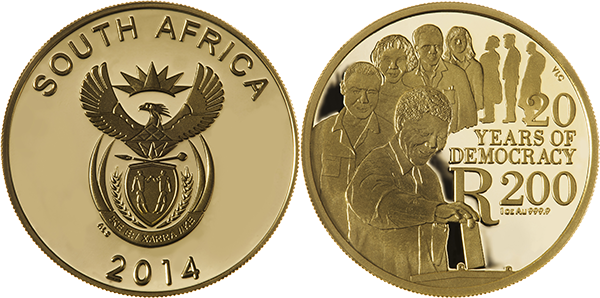 | | |
| --- | --- |
| Name | 20 Years of Democracy in South Africa |
| Presented by | South African Mint Company |
| Nominal value | 200 rand |
| Metal | Gold 999,9° |
| Weight | 31,107 g |
| Diameter | 32,69 mm |
| Thickness | 2,6 mm |
| Mintage | 10 000 pcs. |
| Production quality | Proof quality, Frosted and brilliant finishes |
| Description of obverse and reverse | Obverse: The national coat of arms of South Africa, the year "2014" and the words "South Africa". The motto at the coat of arms is written in the Khoisan language and literally means "diverse people unite". The coat of arms also represent symbols: the ears of wheat (symbol of fertility, nourishment of people and agricultural aspects of the Earth); elephant tusks (symbol of wisdom, strength, moderation and eternity); shield (identity and spiritual defence); human figures (symbol of unity); the spear, "knobkierie" and bird (symbols of defence, authority and peace). Reverse: former President Nelson Mandela at the front of a row of votes. Nelson Mandela is featured casting his first vote in 1994 at the first free and democratic elections in South Africa. The words "20 years of democracy" and the denomination "R200" are also depicted. |
| A brief annotation | The R200 (1oz) pure-gold coin celebrates "20 Years of Democracy" in South Africa by commemorating the first non-racial and democratic elections that were held in the country on 27 April 1994. Mr Mandela was elected President and inaugurated at the Union Buildings in Pretoria on 10 May 1994. He led a troubled country and its people into a new future, built on the foundations of freedom and democracy. The new Constitution pointed towards a united, non-racial, non-sexist, democratic and prosperous society based on justice, equality, the rule of law, and the inalienable human rights of all. Every year on the 27 April all South Africans celebrate past achievements and remember and reflect on the paths that led to this historic occasion. |
| Designer | Artist/Designer: L Guerra Obverse die-sinker: AL Sutherland Reverse die-sinker: VL Chipa |
| Producer | South African Mint Company |
---

С точки зрения инвестиций - отличная монета! Но победить такой монете в нашем конкурсе будет сложно
Quote
Иван Конышев пишет:
С точки зрения инвестиций - отличная монета! Но победить такой монете в нашем конкурсе будет сложно
С точки зрения композиции монета подкачала . Очередная монета для инвестиций в драгметалл 100 %

Согласен на 100%.
Эта монета как-раз только для вложений
Интересно просматривать монету второй раз , так сказать без эмоций на свежий взгляд и , что мы видим на монете " 20 лет демократии в Южной Африке " - голосуют представители , судя по лицам , негроидной расы а европеоидной отсутствует , странная такая демократия , расизм наоборот ? Кстати вспомнились изображения Ленина в СССР , в европейской части он изображался стандартно как европеец , а азиатских республиках уже появлялся раскосый взгляд и более округлое лицо . Может традиции ?