Coin "Baccarat"
Please register to vote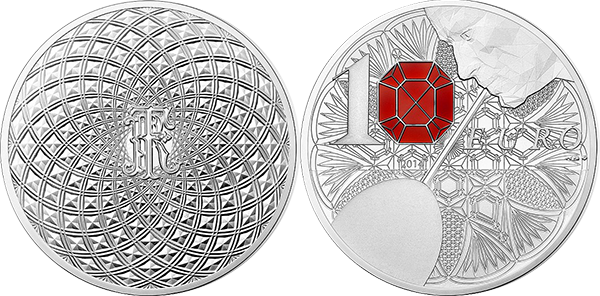 | | |
| --- | --- |
| Name | Baccarat |
| Presented by | Monnaie de Paris |
| Nominal value | 10 euro |
| Metal | Silver 900° |
| Weight | 22,2 g |
| Diameter | 37 mm |
| Mintage | 10 000 pcs. |
| Production quality | Proof Finish. Red resin deposit. |
| Description of obverse and reverse | The obverse of the coin presents the pattern of the Tsarina's pedestal table's tray. This table was ordered to Baccarat by Tsar Alexander II for his wife, Tsarina Marie Alexandrovna. It is part of a series composed of a pedestal table, a fountain and a candelabrum. The RF symbol is placed in the centre of the coin; it is a reproduction of the republican monogram used on the presidency of the French Republic's Baccarat service. The reverse emphasizes the know-how: on the background, the pattern represents the design of the glass created for Tsar Nicholas II (Alexander II's grandson), and the rich drawing of its foot. A blower drawn in a contemporary way forms a glass that appears in hollow on the coin. The face value is inscribed on this unit, using an octagon to draw the figure 0. One of those figures is colored, as a reference to Baccarat's distinctive red octagon. |
| A brief annotation | Monnaie de Paris, doyenne of French institutions, is celebrating its 1150th anniversary in 2014 with the launch of the "French Excellence collection". Each year, the series will place the spotlight on a form of craftsmanship that contributes to the unique legacy of French luxury. Our partnership with the members of Comité Colbert, allows expertise to be exchanged to create a collection of coins and original pieces that will showcase the tradition and vitality of our craftsmanship and act as ambassadors for French excellence in France and on the international stage. This year the series begins with the crystalmaker Baccarat, which is celebrating its 250th anniversary in 2014. |
| Designer | Monnaie de Paris Engraving Workshop |
| Producer | Monnaie de Paris |
---

Трудно будет жюри "Монетного созвездия-2015" выбрать победителей. Очень много достойных монет, одна из таких "Баккара"! По доброму завидую жюри, они смогут увидеть все монеты в живую, увидят такие произведения искусства:)
Все монеты как из ларца по дизайну и оценка одна 4 из 10 .
Такая монета уже была, по моему у нее вес другой был