Coin "Centenary of the Birth of Jan Karski"
Please register to vote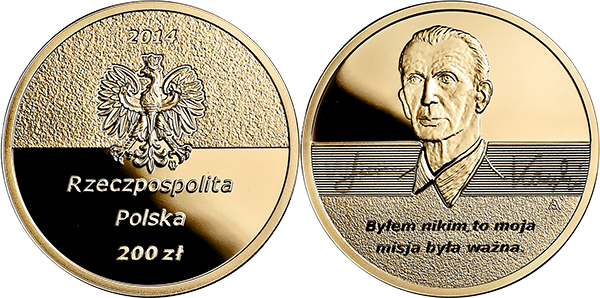 | | |
| --- | --- |
| Name | Centenary of the Birth of Jan Karski |
| Presented by | Narodowy Bank Polski |
| Nominal value | 200 zloty |
| Metal | Gold 900° |
| Weight | 15,50 g |
| Diameter | 27,00 mm |
| Thickness | 2,20 mm |
| Mintage | 2 500 pcs. |
| Production quality | Proof with latent image |
| Description of obverse and reverse | Obverse: at the top, an image of the Eagle, established as the state emblem of the Republic of Poland. Above, an inscription: 2014. Below the Eagle, an inscription: "RZECZPOSPOLITA/POLSKA/ 200zł". The Mint's mark, M/W, under the Eagle. Reverse: against the separate fields, dividing the coin in two equal parts, the image of Jan Karski. In the middle, against the horizontal lines, visible according to the viewing angle, an inscription: WITOLD, or the facsimile of Jan Karski's signature. Below, an inscription: I was nobody, only my/ mission was important. |
| A brief annotation | Jan Kozielewski went down in history under the alias of Jan Karski. Member of the Sodality of Our Lady. Graduated from the Faculty of Law and Diplomacy at the Jan Kazimierz University in Lvov. After the outbreak of World War II he was first in Soviet and later in German captivity. He managed to escape from both and at the end of 1939 he went underground. He was entrusted with the role of emissary of the Polish Underground State. In autumn 1942, Karski entered the Warsaw Ghetto and the interim camp of Izbica illegally. He carried microfilms with reports on the situation of Jews in a hollowed-out key. |
| Designer | Sebastian Mikołajczak |
| Producer | Mint of Poland |
---

Симпатичная монета

Аверс интересен: будто две части разных монет. Очень интересно! Симпатичный дизайн!
Эту монету обязательно нужно в коллекцию. Наверно по двум причинам: чтобы в коллекции была хотя бы одна монета Польского монетного двора и это на мой взгляд лучшая монета представленная Польшей в конкурсе
Смотрится достойно .