Coin "Bulat Okudzhava"
Please register to vote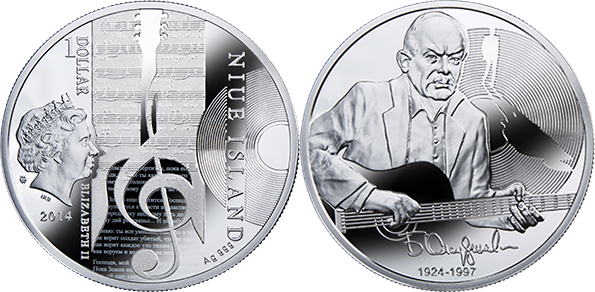 | | |
| --- | --- |
| Name | Bulat Okudzhava |
| Presented by | Mint of Poland |
| Nominal value | 1 dollars (Niue Island) |
| Metal | Silver 999° |
| Weight | 28,00 g |
| Diameter | 38,61 mm |
| Mintage | 4999 pcs. |
| Production quality | Proof, micro printing |
| Description of obverse and reverse | Obverse: in the central part of the coin – musical notation of the song "The Prayer of François Villon" by Bulat Okudzhava. Beneath the staves on proof surface – micro-printed lyrics of the same song in Russian. Both notes and lyrics interfuse with the images of a treble clef and a guitar. Right-hand – effigy of Her Majesty Queen Elizabeth II. Above it, vertically – face value: "1 DOLLAR". Below it – inscription: "ELIZABETH II", year if issue: "2014", mint mark: m/w. Right-hand – image of a vinyl record with a vertical inscription on it: "NIUE ISLAND" (issuer), Below it – hallmark: "Ag 999". Reverse of the coin depicts Bulat Okudzhava playing the guitar. Below it – signature of the musician and years of his birth and death (1924-1997). In the background – image of a vinyl record with an outline of a man casting a shadow. |
| A brief annotation | Bulat Okudzhava was a Russian bard, novelist poet, musician, and songwriter of Georgian-Armenian ancestry, author of about 200 songs set to his own poetry. Okudzhava's works enjoyed great popularity in Poland, with many of his songs and poems translated into the Polish language and widely known by the public. |
| Designer | Robert Kotowicz |
| Producer | Mint of Poland |
---

Ну вот и Окуджаву вспомнили... Жаль, что не га Родине.... А монета довольно посредственная....

Приятно видеть на монетах Остров Ниуэ российских талантливых людей!
Ощущение такое , что весь бюджет этого государства держится на изготовлении инвестиционных монет на различные тематики и направленные на конкретного потребителя . Одно могу сказать точно , монета получилась .

Приятно видеть соотечественников, жаль не на российских монетах. Проект удачный. Монета будет интересна в России
монета обычная, с хорошим человеком
Quote
Григорий Малеев пишет:
монета обычная, с хорошим человеком
Хорошо сказал !