Coin "Centenario de la Gesta Heroica de Veracruz"
Please register to vote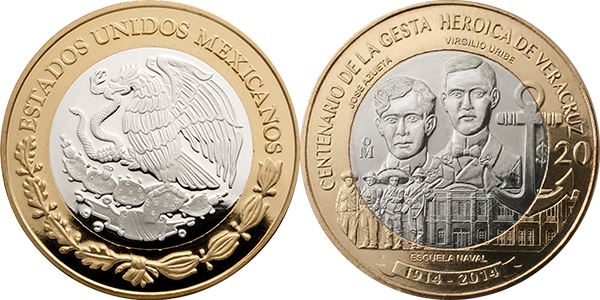 | | |
| --- | --- |
| Name | Centenario de la Gesta Heroica de Veracruz |
| Presented by | Casa de Moneda de México |
| Nominal value | 20 pesos |
| Metal | Copper nickel 75Cu25Ni (center) Aluminum bronze 92Cu6Al2Ni (ring) |
| Weight | 15,945 g |
| Diameter | 32 mm |
| Thickness | 2,75 mm |
| Mintage | 5 000 000 pcs. |
| Production quality | Bullion |
| Description of obverse and reverse | Obverse: The National Emblem is represented by an Eagle devouring a snake, perched on a cactus nestled on an island. This is a sign for the land, given for the god Huitzilopochtli as promise to the Aztecs on their long pilgrimage through the center of Mesoamerica. The main image is surrounded by a wreath of red oak and laurel, and the legend "ESTADOS UNIDOS MEXICANOS". Reverse: Stamped as main motif, the portraits of Virgilio Uribe and José Azueta with the building of the Military Naval School below them; to the left, the silhouettes of the civil defenders of the Veracruz Port and an anchor in the right side. This side has the following legends in a semicircle, "CENTENARIO DE LA GESTA HEROICA DE VERACRUZ" with the names of "JOSÉ AZUETA" and "VIRGILIO URIBE", below it, in the exergue, "ESCUELA NAVAL" and the years "1914 – 2014"; finally in the left side the mint symbol (ceca) of Casa de Moneda de México and in the right the face value "$20". |
| A brief annotation | Heroic Deed of the Port of Veracruz. In this heroic event on the month of April 1914, against the US attack to the Veracruz Port, cadets of the Naval Military School, men, women and children of the town, fight against the enemy with courage, brave and humility, features which gave a distinctive seal of heroism. As a celebration of the centennial of the heroic deed of Veracruz Port, a commemorative coin of "$20" was struck. |
| Designer | Casa de Moneda de México |
| Producer | Casa de Moneda de México |
---
Молодцы всегда , Мексиканские монеты всегда украшение коллекции .

У меня такая в коллекции есть! В живую смотрится еще лучше!

ES una gran Gesta Heroica de nuestro pais y un gran reconocimiento a dicha Gesta

Parte importante de nuestra histórica batalla.
Опять же герб выглядит лучше всего на монете

UN GRABADO PERFECTO Y UN DISEÑO HERMOSO, QUE ES TAN EVOCA REDUCIDO TAMAÑO ... GRANDES SENTIMIENTOS DE NACIONALISMO MEXICANO.