Coin "Kumbez of Manas"
Please register to vote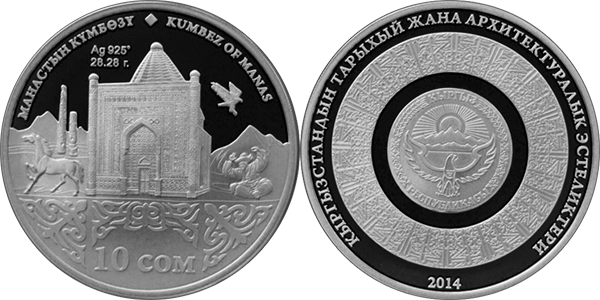 | | |
| --- | --- |
| Name | Kumbez of Manas |
| Presented by | National Bank of the Kyrgyz Republic |
| Nominal value | 10 som |
| Metal | Silver 925° |
| Weight | 28,28 g |
| Diameter | 38,60 mm |
| Thickness | 3,1 mm |
| Mintage | 2 000 pcs. |
| Production quality | Proof |
| Description of obverse and reverse | The main element of the front side of the coin is the image Kumbez of Manas, an architectural monument of memorial and hieratic value in the Middle Ages. The plot of a coin is steeped in memories of the events told by the legendary storyteller – "manastchy" in the epic trilogy "Manas". At the top of the coin there is the coin name, in the lower part – patterns of the Kyrgyz applied art and the denomination of the coin. The national emblem of the Kyrgyz Republic is on the reverse side of the coin, framed with ornament fragment Kumbez of Manas, name of the series "Historical and architectural monuments of Kyrgyzstan" in the Kyrgyz language and the year of coin issue (2014). |
| A brief annotation | "Kumbez of Manas" is one of the national symbols of Kyrgyzstan. "Kumbez of Manas" (1334 A.D.), mentioned in the national legends, is traditionally connected with the epic hero of the Kyrgyz people – Manas. According to researchers, "Kumbez of Manas" is among the most nature architectural works of the tent and portal type, which completed one stage of North Turkestan architects work in the XIV century. In subsequent years, "Kumbez of Manas" served as a sample for imitation in construction of mausoleums for the Kyrgyz grand people in the XVIII-XIX centuries. |
| Designer | Murat Sagimbaev |
| Producer | Kazakhstan Mint |
---
Извините , монета не заинтриговала .

5 из 10 балов! Лично меня радует, что казахстанский монетный двор чеканит монеты для Киргизии.
Нужно чтобы Киргизия делала себе монеты, тогда будет гораздо интереснее, не смотря на дизайн