Coin "Kazan Kremlin – II"
Please register to vote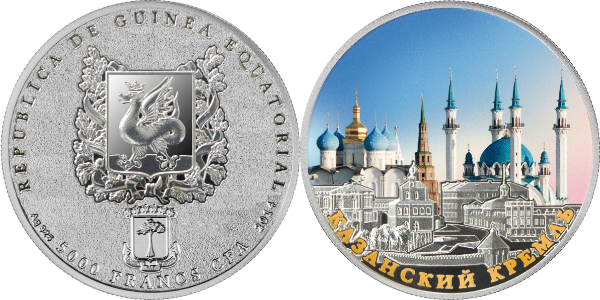 | | |
| --- | --- |
| Name | Kazan Kremlin – II |
| Presented by | Tatfondbank |
| Nominal value | 5000 francs |
| Metal | Silver 925° |
| Weight | 28,28 g |
| Diameter | 38,61 mm |
| Mintage | 1000 pcs. |
| Production quality | Pad printing |
| Description of obverse and reverse | In the center of the obverse of the "Kazan Kremlin" coin there is a modern coat of arms of Kazan. The emblem is framed by golden oak leaves which are joined by St. Andrew's ribbon (from the coat of arms of Kazan province of December 8, 1856), symbolizing the connection between the past, present and future. On the bottom there is a coat of arms of Equatorial Guinea as well as the inscription "Republica de Guinea Equatorial", the denomination "5000 FRANCS CFA", the fineness and designation of the metal according to the periodic system of Mendeleev and the year of issue 2014. On the reverse of the coin there is a relief coloured image of northern panorama of the architectural monument and museum "Kazan Kremlin", surrounded by a beading rim. A gilded inscription "Kazan Kremlin" also appears on the reverse. |
| A brief annotation | Tatfondbank represents a joint project with the "Kazan Kremlin" Museum – the second silver coin with the symbols of the famous monument of architecture. |
| Designer | Tatfondbank |
---

Украшение любой коллекции

Отлично!
Как реклама из туристического путеводителя , слабовато для монеты , однако для слитка серебра 925-й пробы достаточно .

Какое отношение имеет Казанский кремль к Гвинеи. СОВЕРШЕННО НЕ ИНТЕРЕСНО!!!

Согласен с Алексеем какое отношение Казанский кремль имеет к Гвинеи - не проработан этот момент. Да и сама монета на тройку с плюсом

Quote
Алексей Антипов пишет:
Какое отношение имеет Казанский кремль к Гвинеи. СОВЕРШЕННО НЕ ИНТЕРЕСНО!!!
Алексей, Гвинея - это только эмитент, который дал разрешение на изготовление монеты.

Quote
Иван Конышев пишет:
Согласен с Алексеем какое отношение Казанский кремль имеет к Гвинеи - не проработан этот момент. Да и сама монета на тройку с плюсом
Иван, Гвинея - это только эмитент, который дал разрешение на изготовление монеты.
Аверс на этой монете гораздо интереснее смотрится, реверс на мой взгляд не очень подходит

Красивая монета. Интересное сочетание металла и рисунка.