Coin "The ANZAC Spirit – Declaration of War "
Please register to vote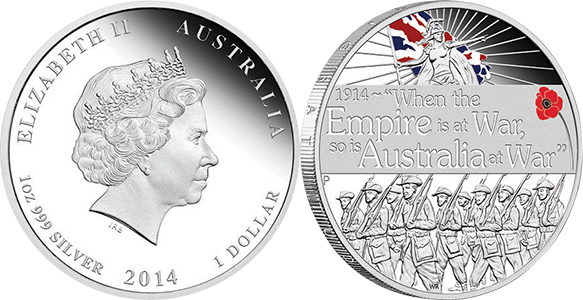 | | |
| --- | --- |
| Name | The ANZAC Spirit – Declaration of War |
| Presented by | The Perth Mint, Australia |
| Nominal value | 1 australian dollar |
| Metal | Silver 999° |
| Weight | 31,135 g |
| Diameter | 40,60 mm |
| Thickness | 4,00 mm |
| Mintage | 7500 pcs. |
| Production quality | Proof quality, feature colour, edge lettering |
| Description of obverse and reverse | Issued as Australian legal tender, the coin's obverse bears the Ian Rank-Broadley effigy of Her Majesty Queen Elizabeth II, bordered by the inscriptions ELIZABETH II, AUSTRALIA, the 2014 year-date, the monetary denomination, and the weight and fineness of the coin. The coin's reverse depicts a group of soldiers marching underneath a representation of Britannia holding her trident, and wearing a Corinthian helmet, symbolic of British liberties and democracy. The inscription '1914 – When the Empire is at War, so is Australia at War', highlighted with a red poppy motif which symbolises remembrance, also appears in the design with The Perth Mint's 'P' mintmark. |
| A brief annotation | When Britain declared war in August 1914, the announcement was greeted by widespread enthusiasm and jubilation across the Empire. In Australia, the population began mobilising for war with volunteers swamping recruitment offices to enlist in the Australian Imperial Force. To mark 100 years since Australia's first involvement in World War I, The Perth Mint has issued a collector coin which highlights the then Prime Minister Joseph Cook's empowering and motivating words… "When the Empire is at war, so is Australia as war". Selective colour also highlights the British flag and a poppy in remembrance for all those who were wounded and lost their lives. The rim of the coin features edge lettering with the words  PRIDE  RESPECT  GRATITUDE  |
| Designer | Wade Robinson – Possessing an Advanced Diploma in Graphic Design (Illustration), Wade specialises in illustration and typesetting. After holding various graphic design positions in Australia's diverse printing industry and in environmental conservation, specialising in nature and park scenes, Wade commenced his design career at The Perth Mint in 2004. |
| Producer | The Perth Mint, Australia |
---
Монета должна поднимать патриотический дух и вызывать гордость за подвиги своих предков . Может по тому , что я русский ,монета интереса не вызвала . Скомканный сюжет с вкраплением цвета , на серебряном кругляше.

Тематика интересная, описание мне понравилось. Но художественно оформлено скучно, мало шансов победить такой монете в нашем конкурсе!
Quote
Иван Конышев написал:
Тематика интересная, описание мне понравилось. Но художественно оформлено скучно, мало шансов победить такой монете в нашем конкурсе!
Согласен с Иваном на 100 % , скукота .
обычная монета