Coin "St. Prophet Elijah"
Please register to vote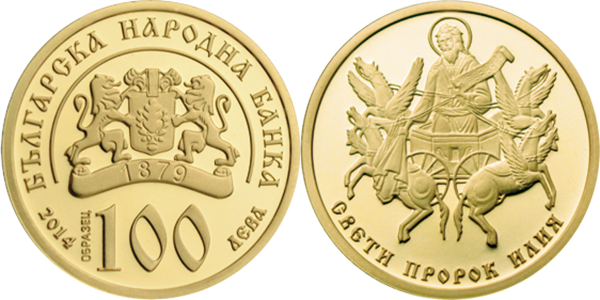 | | |
| --- | --- |
| Name | St. Prophet Elijah |
| Presented by | Bulgarian National Bank |
| Nominal value | 100 levs |
| Metal | Gold 999° |
| Weight | 8,64 g |
| Diameter | 24 mm |
| Mintage | 2000 pcs. |
| Production quality | Proof, mint state |
| Description of obverse and reverse | The obverse of the coin features: the BNB logo and the year "1879" on the strip; the nominal value "100 ЛЕВА" (100 levs), the year of issue "2014", and "БЪЛГАРСКА НАРОДНА БАНКА" (Bulgarian National Bank) inscribed in circumference. The reverse features an image of St. Prophet Elijah in his heavenly chariot and an inscription "СВЕТИ ПРОРОК ИЛИЯ" (St. Prophet Elijah) in a semi-circle below it. |
| A brief annotation | St. Elijah is one of the great Biblical prophets in the Christian tradition and, alongside Moses, one of the great figures of the Old Testament. He is revered also in Judaism, Islam and the Bahá'í faith. The narratives put St. Elijah's birth in the 9th Century BC at the Gilead city of Tishbe east of the Jordan, hence his calling Elijah the Tishbite. St. Elijah was a prophet in the Kingdom of Israel under the reigns of Ahab, Ahaziah and Jehoram. He devoted himself to the true faith in God and fought the idol worship being encouraged by Ahab and his wife Jezebel who had instituted the cult of the pagan deity Ba'al. St. Elijah was a righteous man given to strict fasting and austere asceticism. This imbued him with great spiritual power that shone amid the darkness of his time. The prophet fearlessly defended the true faith and was spared death, ascending to heaven in a fiery chariot drawn by horses of flame before the eyes of his disciple prophet Elisha. Bulgarian folk belief described St. Elijah, or Sveti Ilija, as a bringer of thunder. Master of the summer tempests and hailstorms, he can invoke drought, punish wicked people, and protect crops. Our forefathers believed that the sound of thunder was caused by Sveti Ilija riding his fiery chariot across the sky. The Bulgarian Orthodox Church celebrates the Holy Prophet Elijah on 20 July, Ilinden. |
| Designer | Stefan Ivanov |
| Producer | Bulgarian Mint |
---
Просто проголосую , хотя качество изображения не совсем понравилось .

Реверс немного не доработан мне кажется, художественности не хватает
С цветной эмалью, а -ля византийская мозаика , выглядела бы монета намного лучше , но это только мое мнение .
Что-то в ней не хватает