Coin "The 60th Anniversary of The Queen's Coronation "
Please register to vote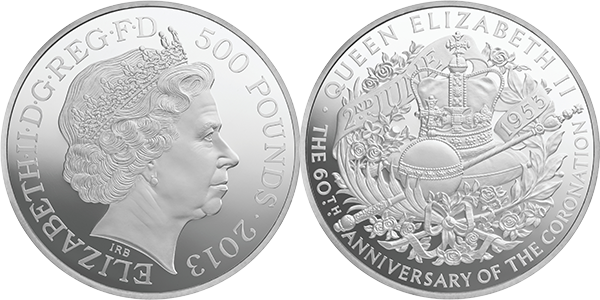 | | |
| --- | --- |
| Name | The 60th Anniversary of The Queen's Coronation |
| Presented by | The Royal Mint |
| Nominal value | 500 pounds |
| Metal | Silver 999° |
| Weight | 1005 g |
| Diameter | 100 mm |
| Mintage | 400 pcs. |
| Production quality | Proof |
| Description of obverse and reverse | The obverse of each coin features the famous portrait of the Queen by Ian Rank-Broadley FRBS. Reverse: the intricate design prominently features the date of the Queen's Coronation – 2 June 1953 - as well as a selection of Crown Jewels used during the ceremony; – St Edward's Crown is crafted from solid gold and decorated with precious and semi-precious stones including the Cullinan II diamond (or Second Star of Africa), one of the largest top-quality diamonds ever cut. Weighing over two kilograms, it is too heavy to wear for more than a few minutes. St Edward's Crown was used to crown Queen Elizabeth II and as it was placed on her head, the crowds shouted out 'God Save The Queen'. – The Orb symbolises the Christian world with its cross mounted on a globe and the bands of jewels and pearls dividing it up represent the three continents known in medieval Europe. It is also an ancient emblem of imperial power. – The Sceptre with cross has been used in every Coronation since it was made for Charles II in 1661. It was transformed in 1910 for George V when he added the spectacular Cullinan I diamond (or First Star of Africa). At 530.20 carats it still remains the largest flawless cut diamond in the world. The design also includes the use of the floral symbols representing the four nations of the British Isles, traditional on British coins, with roses to represent the Queen. Palm branches symbolise the victory of Christian faith (the Queen holds the title 'Defender of the Faith'), whilst the ribbon is purely a decorative means of linking the elements together. |
| A brief annotation | This coin, the largest in the Coronation range, recalls that glorious day 60 years ago when the Queen was crowned and is only the fourth UK kilo coin to have ever been struck. Such an event has only occurred once before in British history, when Queen Victoria reached the 60th anniversary of her Coronation in 1898. |
| Designer | Reverse designer: John Bergdahl. Obverse designer: Ian Rank-Broadley FRBS. |
| Producer | The Royal Mint |
---

Килограммовый вариант серебра также внушает изыском.

реверс перегружен, цветочный орнамент убрал бы

Неплохо бы выделить цветом. Современные технологии это давно позволяют. Иначе все смешивается. Не продумана.

Для столь знаменательного события - очень подходящая монета и главное килограммовая.

по-моему перебор на реверсе с элементами или хаотичность некоторая