Coin "The Queen's Portraits "
Please register to vote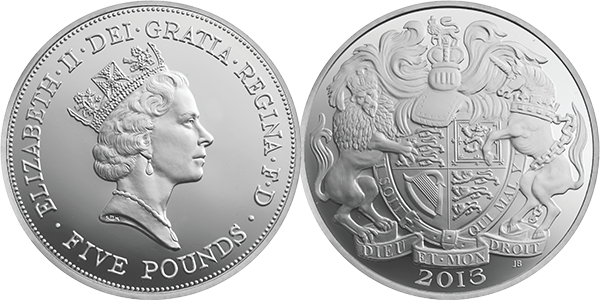 | | |
| --- | --- |
| Name | The Queen's Portraits |
| Presented by | The Royal Mint |
| Nominal value | 5 pounds |
| Metal | Silver 925° |
| Weight | 28,28 g x 4 |
| Diameter | 38,61 mm |
| Mintage | 4800 pcs. |
| Production quality | Proof |
| Description of obverse and reverse | Obverse: each portrait has been faithfully reproduced, with Royal Mint engravers paying close attention to the original artists' work in every detail, including retaining the lettering style of each design. The current coinage portrait was adopted in 1998 and was created by sculptor Ian Rank-Broadley FRBS. His design is bold and realistic, and the portrait fills the field of the coin. His design shows the experience and poise of a monarch who would reign beyond a Diamond Jubilee. Reverse: the Royal Arms of the monarch has featured on coins for many years. To accompany and unify the four portraits, sculptor James Butler has reinterpreted the traditional Royal Arms, his modern and imposing design filling the field of the coin. The Design of the Royal Arms. The shield in the centre of the design shows the various Royal emblems of different parts of the UK: – The three lions of England in the first and fourth quarters – The lion of Scotland in the second quarter – The harp of Ireland in the third quarter The shield is supported by the Lion for England (on the left) and the Unicorn for Scotland (on the right). The Unicorn is chained because in medieval times it was believed that a free unicorn was considered a very dangerous beast. At the top of the shield is the Royal Crown. |
| A brief annotation | In 2013 we've celebrated the 60th anniversary of Her Majesty The Queen's Coronation and the striking of the first coins of her reign. In the past 60 years four coinage portraits have appeared on Britain's circulating coins, each destined to be seen by millions and to achieve iconic status. For the first time ever, all four portraits have been brought together in one set of £5 coins – struck for the anniversary year of 2013. |
| Designer | Reverse: James Butler. Obverses: Mary Gillick/ Arnold Machin RA/ Raphael Maklouf/ Ian Rank-Broadley FRBS. |
| Producer | The Royal Mint |
---

Красивая монета, поистине королевская.

Увидеть бы все четыре с разными профилями королевы. Желательно, реально.

думаю интересно собрать весь набор из 4х монет если уж покупать подобное

Нет, "Крещение принца" гораздо сильнее.

Хороший портрет. Властный королевский взор, направленный на объединенные части Великобритании.

классическая монета, не шедевр, но хорошая