Coin "King's Ten / Investiture of King Willem-Alexander "
Please register to vote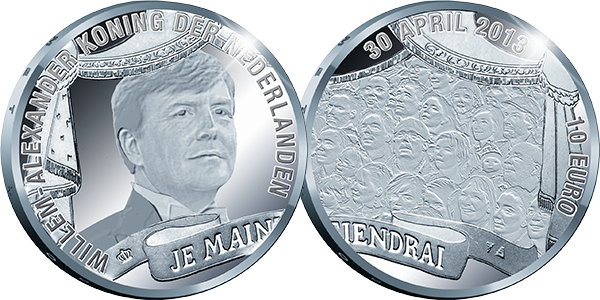 | | |
| --- | --- |
| Name | King's Ten / Investiture of King Willem-Alexander |
| Presented by | Royal Dutch Mint |
| Nominal value | 10 euro |
| Metal | Silver 925° |
| Weight | 25 g |
| Diameter | 38 mm |
| Mintage | 12500 pcs. |
| Production quality | Proof |
| Description of obverse and reverse | Forging ties, representative and encouraging: this is how King Willem-Alexander envisions his kingship. These elements formed the guideline for the design of the «Koningstientje» by Persijn Broersen & Margit Lukács. The obverse partly shows the standard text 'Je Maintiendrai' and a canopy that suggests a theatre with Willem-Alexander in the spotlight. The reverse of the coin provides a behind-the-scenes glimpse of the audience, to whom Willem-Alexander pledges his oath; he reigns by the grace of his people. The combination of innovative technology and a graphic, more traditional view of the elements of the Royal Coat of Arms, make the 'Koningstientje' a historic issue that marks a milestone in our national history. |
| A brief annotation | On Tuesday, April 30, 2013, King Willem-Alexander was invested as King of the Netherlands in the New Church in Amsterdam. Queen Beatrix abdicated the throne earlier that day at the Royal Palace on the Dam Square. During a public joint session of the States General, King Willem-Alexander swore allegiance to the Dutch Constitution. Symbol of Royal sovereignty and dignity King Willem I was the first king of Orange to swear allegiance to the Dutch Constitution in 1814. King Willem II, Willem III and Queen Wilhelmina, Juliana and Beatrix succeeded him. King Willem-Alexander continues this tradition. After taking the oath in the New Church and swearing to faithfully discharge his duties, the members of the States General accepted the new King. He pledged to protect the freedom and rights of all Dutch nationals and persons living in the Netherlands. To honour the event, the 'Koningstientje' has been issued. Only special Gold commemorative coins with a denomination of ? 20 are issued with a Royal theme. |
| Designer | Persijn Broersen and Margit Lukács |
| Producer | Royal Dutch Mint |
---

Серьезный экспонат.

графика впечатляет

Монета в золоте смотрится торжественнее.

Всё, что нельзя рассмотреть в золотом варианте этой монеты, можно рассмотреть в серебре благодаря большему весу и размеру.

Интересная монета

в коллекцию)))