Coin "Niederösterreich (Lower Austria)"
Please register to vote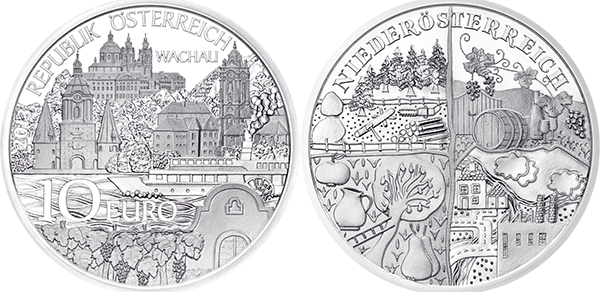 | | |
| --- | --- |
| Name | Niederösterreich (Lower Austria) |
| Presented by | Münze Österreich AG – Austrian Mint |
| Nominal value | 10 euro |
| Metal | Silver 925° |
| Weight | 17,30 g |
| Diameter | 32,00 mm |
| Thickness | 2,5 mm |
| Mintage | 30000 pcs. |
| Production quality | Proof |
| Description of obverse and reverse | The obverse of the coin was designed by Mint engraver Helmut Andexlinger and features: a river ferry sailing past the monastery of Melk, the ancient town gate of Krems and the baroque church at Dürnstein, the village where King Richard the Lionheart was famously held captive in 1193. This side of each coin also features the country of issue, «Republik Oesterreich» Republic of Austria, the year of issue 2013, the face value of 10 euros and the name of the region, in this case an area around the Danube, the Wachau, a very famous part of Lower Austria. This commemorative coin is legal tender in Austria. The reverse of the coin was designed by ten-year old Christian Kopf of the village of Ertl, in lower Austria, and was engraved by the Mint's chief engraver Thomas Pesendorfer. Christian's clever design depicts the four regions of Austria's largest province and their respective economic contributors, in a clock-wise order from the upper left: woodland, vineyards, business/industry and orchards. The chief engraver enjoyed working with Christian to translate his design into a three dimensional coin work-of-art. Together they decided that the snow capped mountains depicted in the economic quarter would be engraved with a bit more texture and topped off with fluffy white clouds to highlight the snow there. Also the chain saw in the woodland area was made a bit larger in proportion for the coin engraving. |
| A brief annotation | A picture, they say, is worth a thousand words. That's why when we set about finding out exactly what Austria means to its people we decided that the simplest and best way to do so was to ask our junior citizens to draw it for us. The response was terrific. Our charming new ten-coin series Austria by its Children is a testament to the talent of all the 9 to 10 year olds from the nine different provinces of Austria who entered our nationwide competition to draw their home province. Over the next five years the winning design for each province will be immortalised on the reverse of each of our 10 euro silver coins celebrating the nine provinces of Austria. These will be complemented on the obverse with a depiction, expertly crafted by our world-renowned coin designers, of a UNESCO World Heritage site or a manifestation of «intangible» cultural heritage in the form of ancient traditions from each province. The series will be crowned with a final coin depicting Austria in its entirety. |
| Designer | Helmut Andexlinger (the obverse), Herbert Wähner (the reverse). |
| Producer | Münze Österreich AG – Austrian Mint |
---

Очень всё кучно и пестрит. Авторы хотели удивить, но в одну монету вложили очень много информации. Надо работать.

Гельмут Андекслингер (аверс) явно превзошел своего коллегу, думаю стоило бы ему отдать полностью ее оформление

А мне идея понравилась и монета очень симпатичная.

Герберту Венеру респект.

великолепно) красиво) манит)