Coin "Vorarlberg"
Please register to vote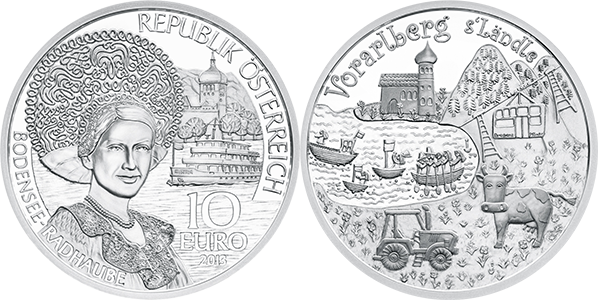 | | |
| --- | --- |
| Name | Vorarlberg |
| Presented by | Münze Österreich AG – Austrian Mint |
| Nominal value | 10 euro |
| Metal | Siver 925° |
| Weight | 17,30 g |
| Diameter | 32,00 mm |
| Thickness | 2,5 mm |
| Mintage | 40000 pcs. |
| Production quality | Special uncirculated |
| Description of obverse and reverse | The charming naïve depiction of Voralberg on the reverse of the coin is by 9 year old, Alissa De Mori who lives in the region in the village of Hoerbranz. She has included the best known parts of the province including 3 mountain peaks with coniferous forests, and a cable car just in front. A classic eastern European baroque church can also be seen with its characteristic onion dome on the steeple. Lake Constance is depicted with some of its many recreational boating uses. In the foreground is a lovely meadow covered with an abundance of flowers and grasses, along with a farm tractor and a cow. The mint's chief engraver Thomas Pesendorfer worked with Alissa to adapt her design by «translating» its original colors into a three dimensional design that could be readily struck onto a coin. The obverse of the coin depicts a lady wearing a spectacular handmade round bonnet crafted in gold lame lace – a tradition in this province. Both the skills to make these bonnets, as well as the bonnets themselves, are passed on from generation to generation. They have been registered as cultural world heritage items that need to be guarded for global safekeeping. These bonnets are time-consuming works of art, with each representing an average of 300 hours of handwork. The lady's dress is the traditional «tracht» of the province which has been made even more dramatic with the inclusion of the finely worked lace collar. In the background is one of the many boats that ply the waters of beautiful Lake Constance. The «onion domed» baroque church of St. Martin's in Bregenz completes the design on this side. Mr. Pesendorfer designed and engraved the obverse of the coin. |
| A brief annotation | A picture, they say, is worth a thousand words. That's why when we set about finding out exactly what Austria means to its people we decided that the simplest and best way to do so was to ask our junior citizens to draw it for us. The response was terrific. Our charming new ten-coin series Austria by its Children is a testament to the talent of all the 9 to 10 year olds from the nine different provinces of Austria who entered our nationwide competition to draw their home province. Over the next five years the winning design for each province will be immortalised on the reverse of each of our 10 euro silver coins celebrating the nine provinces of Austria. These will be complemented on the obverse with a depiction, expertly crafted by our world-renowned coin designers, of a UNESCO World Heritage site or a manifestation of «intangible» cultural heritage in the form of ancient traditions from each province. The series will be crowned with a final coin depicting Austria in its entirety. |
| Designer | Thomas Pesendorfer |
| Producer | Münze Österreich AG – Austrian Mint |
---

Так оригинально!

Браво Томасу Пезендорферу и австрийским детям! Единственный существенный минус, на мой взгляд, отличается аверс и реверс по стилю. Если детская, значит вся должна быть выдержана в должном стиле.

Головной убор впечатляет, реверс можно было бы ограничить количеством детских рисунков или кого-то бы обидели?

только по описанию понял , что это головной убор! остальное неплохо

Детский рисунок потрясающий, а аверс подчеркивает самобытность народа.

хороший стиль выбран австрийцами для своих монет, радуют взгляд)