Coin "Land of water"
Please register to vote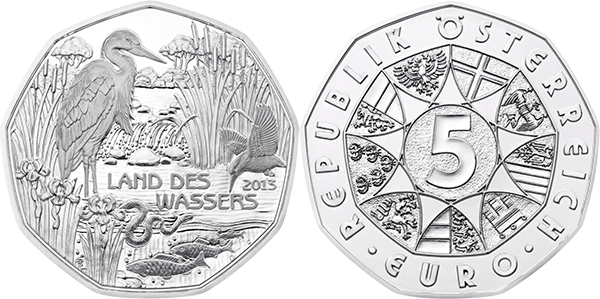 | | |
| --- | --- |
| Name | Land of water |
| Presented by | Münze Österreich AG – Austrian Mint |
| Nominal value | 5 euro |
| Metal | Silver 800° |
| Weight | 10,00 g |
| Diameter | 28,50 mm |
| Thickness | 1,9 mm |
| Mintage | 50000 pcs. |
| Production quality | Special uncirculated |
| Description of obverse and reverse | The obverse of the nine-sided coin is the standard 5-euro design, with the denomination encircled by the shields of the nine federal provinces of Austria. In the center is the face value of 5 euros. Mint engraver Helmut Andexlinger designed the obverse. The reverse of the coin, created by the mint's chief engraver Thomas Pesendorfer, focuses life on a small pond and stream, with water gently falling over a little step into a pool where a heron surveys all the goings on. A kingfisher, a water snake and part of a school of fish can be seen in the pond. Lush cattails, and irises, all of which benefit from the sustenance supplied by water, surround the pond. In the distant background dense vegetation comes right up to the water's edge. Several trees have also been incorporated into the design's background. Also on this side of the coin is the year of issue 2013 as well as the name of the coin «Land des Wassers», or Land of Water. |
| A brief annotation | Of course, Austria has an abundance of fresh water that has been used for centuries. Austria's mountains and environment have long supplied this vital requirement of life. Water is vital to all parts of life and no one country can take on the responsibility for clean, pure water well into the future. It is a shared resource that affects all aspects of life: personal, social and economic, as well as the world around us. Therefore, in order to raise awareness UNESCO (United Nations, Educational, Scientific and Cultural Organization) has designated the year 2013 as the Year of Water Co-operation. |
| Designer | Helmut Andexlinger (the obverse), Thomas Pesendorfer (the reverse). |
| Producer | Münze Österreich AG – Austrian Mint |
---

Очень важная монета для орнитологов

И для рыбаков

Ну зачем же так, а как же любители флоры?

аверс не очень, вообще идеалом по сочетанию изображении животных и номинала считаю монеты новой зеландии

Не хватает стильности. Обычное изображение живой природы.

хорошая простая монета