Coin "Name of Allah"
Please register to vote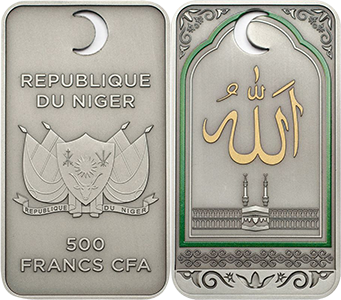 | | |
| --- | --- |
| Name | Name of Allah |
| Presented by | Resource Trade, Russia |
| Nominal value | 500 francs (Republic of Niger) |
| Metal | Silver 999° |
| Weight | 15,55 g |
| Diameter | 27 х 47 mm |
| Mintage | 5000 pcs. |
| Production quality | Antique finish, gilding , with a crescent-shaped hole |
| Description of obverse and reverse | The obverse: in the center – the coat of arms of the Republic of Niger, at the top – a hole in a form of a crescent, below it – the inscription: «REPUBLIQUE DU NIGER», at the bottom – the face value «500 FRANCS CFA». The reverse: at the top – a hole in a form of a crescent, in the center – a schematic image of kabah in the courtyard of the mosque Al-Masjid Al-Haram, above it, in the center – one of the names of Allah, around the whole composition – a stylized ornament. |
| A brief annotation | «Allah has beautiful names, call Him by them and leave those who dissent on his names. Will they be rewarded according to their work! Verily, Allah has ninety nine names, one hundred minus one. Anyone who remembers them - will go to paradise». |
| Designer | N.S.Leonov |
| Producer | BH Mayer Mint (Germany) |
---
Нужно продолжение серии, после этой монеты. Частично элементы оставить, а остальное менять в соответствии с другими мусульманскими странами. Т.е. сделать серию на все мусульманские страны.

Продолжается тенденция перехода от пруфа к искусственному старению, стилю "антик" и пр. оксидированию. Плохого в этом ничего нет, но часть своей экзотики монеты стали терять. На мой взгляд.

Монета только для Нигера, у нас продаваться не будет.

серию из всех религий на территории рф могли бы сделать

Можно носить, как подвеску.

За счет искусственного старения монета приобретает определенную загадку.

для мусульман и то не для всех