Coin "Collecting"
Please register to vote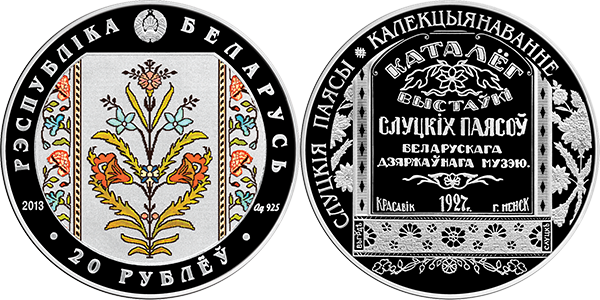 | | |
| --- | --- |
| Name | Collecting |
| Presented by | National Bank of the Republic of Belarus |
| Nominal value | 20 belorussian rubles |
| Metal | Silver 925° |
| Weight | 33,62 g |
| Diameter | 50,00 mm |
| Mintage | 7000 pcs. |
| Production quality | Proof, pad printing |
| Description of obverse and reverse | Obverse: at the top there is a relief image of the State Emblem of the Republic of Belarus; in the center, in a circle – image of two-sided belt made in Slutskaya Manufactory and located in the collection of the Literature Museum named after Maxim Bogdanovich, the fragment of the belt made in a technology of pad-printing; along the outer circle – the inscription: «РЭСПУБЛІКА БЕЛАРУСЬ»; on the left – the year of issue, on the right – the fineness, at the bottom – the face value: «20 РУБЛЁЎ». Reverse: on the left there is a circular inscription: «СЛУЦКІЯ ПАЯСЫ. КАЛЕКЦЫЯНАВАННЕ»; in the center – the cover of the exhibition catalog of Slutsk belts for 1927 and a belt fragment from Ivan Lutskevich collection (this collection was shown to M. Bogdanovich, after that he wrote a poem «Slutsk weavers»). |
| A brief annotation | Slutsk belts – Belarusian products of hand weaving of the 2nd half of the XVIII – 1st half of the XIX centuries. They got their name after the town of Slutsk (in the Minsk region), where in 1758 the hetman of the Grand Duchy of Lithuania Prince Michael Casimir Radziwill organized production of the belts and soon they replaced imported eastern belts, became a part of a rich Belarusian, Polish, Russian and Ukrainian men's suit. Slutsk belts were woven from silk, golden and silver threads, they were usually two-sided, very long (2-4.5 m) and wide (30-50 cm); their sides were decorated with patterned narrow border, their ends had rich, mostly floral, ornament with Belarusian folk patterns combined with oriental motifs. Highly esthetic Slutsk belts became very popular. In the 2nd half of XIX – early XX centuries similar products with the same name of «Slutsk belts» were also produced in Nesvizh, Warsaw, Krakow and other cities. |
| Designer | Svetlana Nekrasova (The Republic of Belarus) |
| Producer | The Lithuanian Mint |
---

Довелось видеть одну из монет серии в реальности. Поверьте - это просто изумительно, из-за отличительного характера тампопечати.

За пояс высокая оценка, Светлана молодец

Название монеты выигрышное.

Плюс таких монет - это национальная самобытность. Да и оформление неплохое.

качество беларусских монет тут на все 100