Coin "The Shrine of the Book"
Please register to vote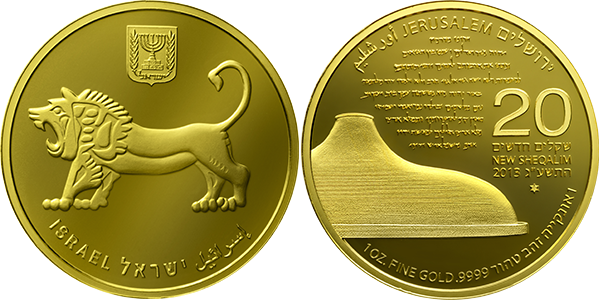 | | |
| --- | --- |
| Name | The Shrine of the Book |
| Presented by | Israel Coins and Medals Corp. |
| Nominal value | 20 new sheqalim |
| Metal | Gold 999° |
| Weight | 31,1 g |
| Diameter | 32 mm |
| Thickness | 3 mm |
| Mintage | 3600 pcs. |
| Production quality | Proof-like |
| Description of obverse and reverse | Obverse: Israel State Emblem, «Israel» in English, Hebrew and Arabic, a roaring lion taken from an ancient 8th century BCE seal found in Megiddo, that belonged to Shema, servant of King Jeroboam II. Reverse: part of the Shrine of the Book with its distinctive dome-shaped roof and wall at the base, which encloses a pool of water. In the upper center is an extract from the Book of Isaiah, as it appears on the Great Isaiah Scroll, one of the original seven Dead Sea Scrolls discovered at Qumran. In the upper border is the word «Jerusalem» in English, Hebrew and Arabic and to the right, the Face Value, Mint Year and Star of David Mint Mark. |
| A brief annotation | The «Shrine of the Book» is part of the famous Israel Museum in Jerusalem, in which several ancient manuscripts discovered in archaeological excavations are showcased and preserved. The dome-shaped roof of the «Shrine of the Book», prominent on the Jerusalem landscape, covers a structure which is two-thirds below the ground and reflected in a pool of water that surrounds it. The Shrine of the Book was originally built to house the Dead Sea Scrolls, the oldest known biblical manuscripts dating fr om about 2,000 years ago, discovered in 1947 at Qumran, by the Dead Sea. The white dome of the building was designed to symbolize the lids of the jars in which the first scrolls were found, while the corridor leading into the Shrine resembles the cave, wh ere the Scrolls were discovered. In the 1950s, the 10th century Aleppo Codex, the oldest and most complete Hebrew Bible in existence, with vocalization and cantillation, was brought to Jerusalem, and later to the Shrine of the Book for preservation. |
| Designer | Meir Eshel (obverse); Aharon Shevo (reverse). |
| Producer | Mint of Norway |
---

Реверс познавательный.

Неплохо бы знать иврит. Смог бы прочесть, что там написано. Лев как-то дерзок, а, вообще, средне.

Неплохо, но вот мелкий текст на чужом языке

Мне больше нравятся монеты, наполненные изображениями нежели текстом. А идея взять льва с печати 8 века до н.э. похвальна.

хорошо отображено именно израильское))) качественно