Coin "Yad Vashem – 60th Anniversary"
Please register to vote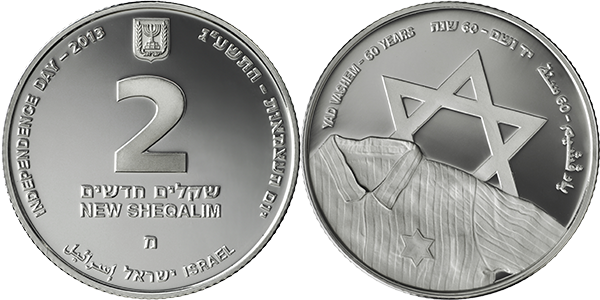 | | |
| --- | --- |
| Name | Yad Vashem – 60th Anniversary |
| Presented by | Israel Coins and Medals Corp. |
| Nominal value | 2 new sheqalim |
| Metal | Silver 925° |
| Weight | 28,8 g |
| Diameter | 38,7 mm |
| Thickness | 3 mm |
| Mintage | 2800 pcs. |
| Production quality | Proof |
| Description of obverse and reverse | Obverse: face Value, Israel State Emblem, «Israel» in English, Hebrew and Arabic, Mint Year and Mint Mark. Reverse: a striped shirt with Star of David, resembling the garment forced upon the Jewish people in the Holocaust. A Star of David in the background symbolizes the rebirth of the Jewish people in the State of Israel. |
| A brief annotation | Established in 1953 by a law of the Knesset, Yad Vashem is the world center for the commemoration of the six million Jews murdered in the Shoah. Situated on the Mount of Remembrance in Jerusalem and spread over some 45 acres, Yad Vashem has spent the last 60 years committed to Holocaust documentation, research, education and commemoration, through its Archives, Library, International Institute for Holocaust Resarch, International School for Holocaust Studies and Museums Complex, and through its recognition of the Righteous Among the Nations. In 2013, the Yad Vashem Pages of Testimony repository was added to the UNESCO Memory of the World Register. Collecting the names of Holocaust victims has been a priority for Yad Vashem for the last 60 years. The Central Database of Shoah Victims' Names, which now contains some 4.2 million names, is readily available on the internet. At the forefront in all matters pertaining to technology in the service of memory, Yad Vashem has made vast amounts of archival information, and education and research material easily accessible the world over. |
| Designer | Design: Yossi Lemel |
| Producer | Israel Coins and Medals Corp. Mint |
---

Для тех, кто собирает разные символы.

И монеты с изображением предметов одежды.

Идея хороша, за это высокая оценка

Монета предназначена вспомнить кровавые ошибки истории и не совершать их в будущем.

юбилейная, грустная оттого, что посвящена не веселому