Coin "Bulgarian Churches and Monasteries – Bachkovo Monastery"
Please register to vote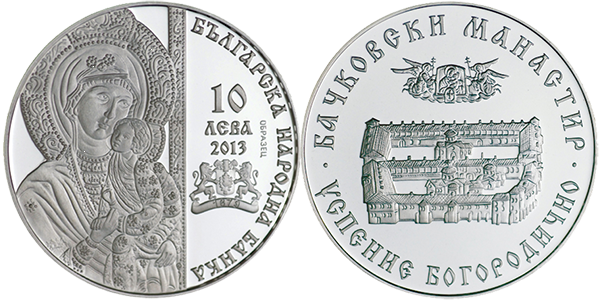 | | |
| --- | --- |
| Name | Bulgarian Churches and Monasteries – Bachkovo Monastery |
| Presented by | Bulgarian National Bank |
| Nominal value | 10 BGN (levs) |
| Metal | Silver 925° |
| Weight | 23,33 g |
| Diameter | 38,61 mm |
| Mintage | 3000 pcs. |
| Production quality | Proof |
| Description of obverse and reverse | The obverse features on the left: a replica of the miraculous Virgin Mary Eleusa icon of the Bachkovo Monastery; on the right: the nominal value '10 ЛЕВА' (10 levs), the year of issue '2013', the BNB logo with the year '1879' on the strip and the inscription 'БЪЛГАРСКА НАРОДНА БАНКА' (Bulgarian National Bank) in semicircle. The reverse features the Bachkovo Monastery and two angels with a Virgin Mary icon of the fresco above the monastery gate; the inscription 'БАЧКОВСКИ МАНАСТИР • УСПЕНИЕ БОГОРОДИЧНО' (Bachkovo Monastery • The Assumption) in circumference. |
| A brief annotation | For almost a millennium, the Bachkovski Monastery has been one of Bulgaria's great centres of worship, enlightenment and the spirit, as well as a sacred site of Eastern Orthodoxy. The Monastery is Bulgaria's second largest, and is stauropegic: subordinated directly to the Synod of the Bulgarian Orthodox Church. Three cultures meet at the Monastery: Byzantine, Georgian, and Bulgarian. The unique architectural and artistic monuments are rich in murals, icons, and carved timber iconostases, all of them making the Monastery world-renowned. The renowned icon of Sv. Bogoroditsa Eleusa (Our Lady in Affection) has been Monastery property since 1311. The abbey's library contains 103 manuscript and 253 early print volumes. Sv. Patriarch Euthimios, Exarch Stefan I and Patriarch Kiril were buried at the Monastery. |
| Designer | Evgenia Tsankova, Plamen Chernev |
| Producer | Bulgarian Mint |
---

Откровенно? Слабо.

Мне нравится , люблю тему монастырей

Ну, разве что болгарская православная тематика, есть в этой монете какой-то трепет. Но и всё. Не креативно.

Аверс выполнен интересно, а вот реверс немного пуст.

на 8 оценил вроде