Coin "St. Constantine and St. Helena"
Please register to vote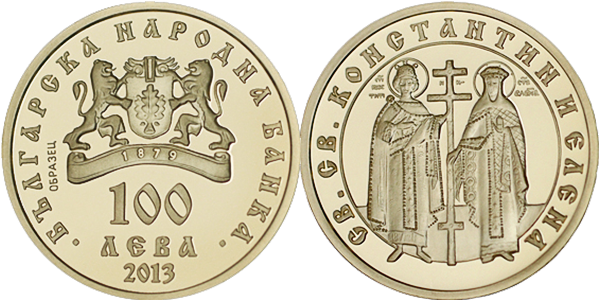 | | |
| --- | --- |
| Name | St. Constantine and St. Helena |
| Presented by | Bulgarian National Bank |
| Nominal value | 100 BGN ( levs) |
| Metal | Gold 999° |
| Weight | 8,64 g |
| Diameter | 24 mm |
| Mintage | 2000 pcs. |
| Production quality | Proof |
| Description of obverse and reverse | The obverse of the coin features the BNB logo and the year '1879' on the strip, as well as the nominal value '100 ЛЕВА' (100 levs) and the year of issue '2013'. The text 'БЪЛГАРСКА НАРОДНА БАНКА' (Bulgarian National Bank) is inscribed in circumference. The reverse features images of a St. Constantine and St. Helena fresco from the Kremikovtsi Monastery. The text 'СВ. СВ. КОНСТАНТИН И ЕЛЕНА' (St. Constantine and St. Helena) is inscribed in circumference on the outer ring. |
| A brief annotation | Constantine I the Great (Flavius Valerius Aurelius Constantinus) was proclaimed Emperor on 25 July 306 at Trier in today's Germany and until his death ruled the greater part of the Roman Empire. With the Edict of Milan he made Christianity legal in the Empire and called the first Ecumenical Council at Nicaea in 325. It was Constantine who laid the foundations of the Byzantine Empire and who founded the New Rome, being Constantinople and proclaimed capital in 330, and who was the first Christian Emperor. As a lawgiver, Constantine the Great introduced a number of laws in favour of the Church, in defence of the poor and destitute, proscribed gladiatorial contests and crucifixion, and countering corruption and the misuse of power. Legend has it that he sent his mother Helena on a mission to Jerusalem, where in 326 she discovered the Holy Sepulchre and the True Cross. Helena returned to Rome aged nearly 80 and bearing holy relics from her pilgrimage, to die in her son's arms. Constantine the Great also ruled the Empire from Serdica (today's Sofia), of which city he said 'Serdica is my Rome!' For their contribution to Christianity, the Church canonised Constantine and his mother Helena Equal to Apostles, honouring their memories on 21 May each year. |
| Designer | Mihaela Kamenova |
| Producer | Bulgarian Mint |
---

Изображение фрески можно было бы произвести по живее. Сколько таких у островов Кука и Ниуэ! Единственный плюс болгарам - это Ваше Родное.

Зато своё.

Фреска могла бы выглядеть более яркой.

Мне кажется вполне достойно

бледное золото какое-то и чеканка размытая