Coin "Yamaguchi"
Please register to vote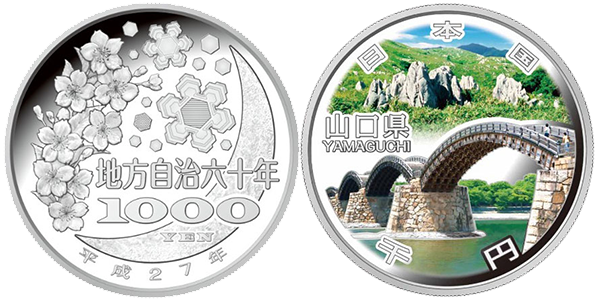 | | |
| --- | --- |
| Name | Yamaguchi |
| Presented by | The Organizing Committee of Coin Constellation-2016 |
| Nominal value | 1000 yen |
| Metal | Silver 999° |
| Weight | 31,10 g |
| Diameter | 40 mm |
| Mintage | 100 000 pcs. |
| Production quality | Proof |
| Description of obverse and reverse | The obverse depicts a branch of blossoming cherry tree, snowflakes and a crescent as well as the face value which is inscribed in Japanese and English. At the bottom along the edge there are hieroglyphs and the figure "27". The obverse contains hidden images: "47" (means the number of prefectures) and "60" (the 60th anniversary of Japan's local autonomy Law). The reverse depicts colored symbols of the prefecture: Akiyoshi-dai Plateau (it is covered with meadows with numerous sharp stones) and the arched wooden Kintai Bridge (built in 1673 over the river Nishiki, one of Japan's most famous bridges). On the left side of the coin there is an inscription in two lines with the name of the prefecture in Japanese and English. |
| A brief annotation | Yamaguchi is a prefecture located in the Chugoku region on Honshu Island. The prefectural administration center is the city of Yamaguchi. The largest city is Shimonoseki. The emblem of the prefecture is a combination of stylized hieroglyphs "yama" and "guchi", and it symbolizes a bird soaring up to the sun. Official symbols of the prefecture: a flower of blossoming citrus natsudaidai, a pine tree, a bird – black-necked crane, an animal – the sika deer, a fish - fugu. The coin is issued in the series "47 prefectures". |
| Producer | Japan Mint |
---

Не помню монете Японии на этом конкурсе. Это наверно впервые. Но если впервые, то и не самая худшая здесь точно.
Первая наверное монета от Японии на конкурсе. Могу сказать что очень хорошо зашла. Ничего лишнего. Дам 10 баллов. Я бы взял себе в коллекцию
Ничего особенного. Монеты Японии не впечатляют. Вот префектуры - хорошая серия. Единственная.
мне не нравятся такие монеты..слишком футуристичны

Хорошая монета.
Не смотря на наличии односторонней тампопечати , монета смотрится не завершенной .

Интересная монета для ценителей восточной культуры и нумизматики..