Coin "Great War – 1915 / 2015"
Please register to vote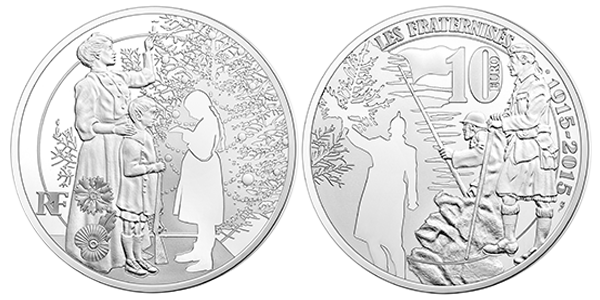 | | |
| --- | --- |
| Name | Great War – 1915 / 2015 |
| Presented by | Monnaie de Paris |
| Nominal value | 10 euro |
| Metal | Silver 900° |
| Weight | 22,2 g |
| Diameter | 37 mm |
| Mintage | 5000 pcs. |
| Description of obverse and reverse | The obverse of the coin evokes the civilian side of the December 1915. A woman and her children are decorating a Christmas tree. The little girl reads a letter written by her father from the front. At the bottom of the coin, the poppy and the cornflower, respective symbols of veterans of the Commonwealth and of France. Reverse: following the obverse, the reverse starts around the Christmas tree! On the front, German, British and French soldiers are gathering around this strong symbol of Christmas. They all got out of the trenches and fraternise with the enemy. It is called Christmas Truce. |
| A brief annotation | This series shows the role played both by men and women during this conflict. This year, the link is made by the Christmas events. The soldiers in the front live in the trenches, and the civilian world suffers. Women replace the lack of labour; war godmothers maintain the morale and nurses look after the wounded. In these harsh conditions in the trenches, German, British & French will fraternise in December 1915, getting out of the trenches. It is the Christmas Truce. In the meantime on the civilian side, families are living a particular Christmas, far from husbands, sons or friends. |
| Designer | Monnaie de Paris' Workshop |
| Producer | Monnaie de Paris |
---
Интерес не вызывает
Деталей много , эмоций ни каких ..

I tried using googly eyes in some of my pieces, but I didn't feel they turned out very well. In order to remove bubbles, you need to apply heat, which I'll explain more later. But this was difficult with the googly eye pieces as the heat seemed like it would begin to melt or burn the plastic eyes. Getting the bubble out of the resin proved difficult, so those pieces had more bubbles and you just couldn't see the eyes very well. If anyone else wants to give it a try, maybe you can find a trick that works better. But for me, I found that sprinkles, glitter, and confetti worked best in my pieces, so that's what I'd recommend.These
cheap pandora jewelry outlet
sets were no exception. So, I'm excited to share not only how to make these, but also some tips for working with epoxy resin for any small project you might have planned in the future.



20170612lck
louis vuitton outlet stores
adidas shoes
coach outlet online coach factory outlet
cheap oakley sunglasses
polo outlet
kobe shoes
polo outlet
coach outlet
adidas shoes
ray ban sunglasses
nike outlet store online
oakley sunglasses wholesale
prada outlet online
tory burch outlet online
cheap jordans
michael kors factory outlet
camisetas futbol baratas
coach outlet clearance
swarovski uk
fitflops
coach outlet online
ralph?lauren
ysl outlet online
louis vuitton borse
rolex outlet
michael kors outlet clearance
fitflops sale clearance
cheap jordans for sale
rolex watches,rolex watches,swiss watches,watches for men,watches for women,omega watches,replica watches,rolex watches for sale,rolex replica,rolex watch,cartier watches,rolex submariner,fake rolex,rolex replica watches,replica rolex
cheap oakley sunglasses
ray ban sunglasses uk
polo ralph lauren outlet
mulberry uk
oakley sunglasses wholesale
air max 90
michael kors wallets for women
fitflops sale clearance
ralph lauren polo
michael kors outlet clearance
rolex watches outlet
oakley sunglasses wholesale
canada goose coats
pandora outlet
mbt shoes outlet
louis vuitton handbags
true religion jeans
oakley sunglasses wholesale
rolex watches
cheap ray ban sunglasses
soccer jerseys wholesale
ralph lauren outlet
christian louboutin shoes
louis vuitton outlet
christian louboutin outlet
links of london jewellery
cheap oakley sunglasses
louis vuitton
true religion outlet uk
kate spade uk
nike free running
cheap ray ban sunglasses
coach outlet online
coach factory outlet
louis vuitton outlet
christian louboutin shoes
cheap oakley sunglasses
salomon outlet
oakley sunglasses
nfl jerseys
coach factory outlet
cheap jordan shoes
cheap football shirts
yeezy boost
yeezy boost 350
louis vuitton outlet store
polo outlet online
cartier watches for sale
cheap nike shoes
oakley sunglasses
fitflops
ralph lauren
longchamp handbags
nike air huarache
mont blanc outlet
louis vuitton handbags
swarovski crystal
michael kors outlet clearance
coach outlet online
kate spade
lacoste outlet
coach outlet
coach outlet store online
michael kors outlet
birkenstock shoes
true religion outlet
pandora outlet
polo ralph lauren
polo outlet stores
ray ban sunglasses
true religion jeans outlet
20170612lck