Coin "Composer P.I. Tchaikovsky"
Please register to vote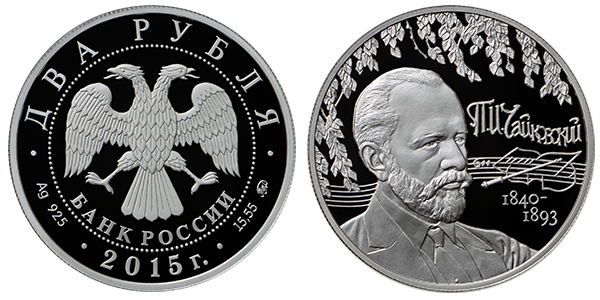 | | |
| --- | --- |
| Name | Composer P.I. Tchaikovsky |
| Presented by | Moscow Mint of Goznak (Russia) |
| Nominal value | 2 rubles |
| Metal | Silver 925° |
| Weight | 17,00 g |
| Diameter | 33,00 mm |
| Thickness | 2,40 mm |
| Mintage | 3000 pcs. |
| Production quality | Proof |
| Description of obverse and reverse | The obverse: in the centre – the emblem of the Bank of Russia [the two-headed eagle with wings down, under it – the semicircular inscription "БАНК РОССИИ" (BANK OF RUSSIA)] framed by a circle of dots and inscriptions, above – the denomination: "ДВА РУБЛЯ" (TWO RUBLES), below: to the left – indications of the precious metal and its fineness, in the centre – the year of issue "2015 г." (2015), to the right – the fine metal content and the mint trade mark. The reverse: to the left – the relief portrait of P.I. Tchaikovsky, to its right – the inscription: "П.И. ЧАЙКОВСКИЙ" (P.I. TCHAIKOVSKY), below – dates in two lines "1840" and "1893", in the background – a stave, a baton and contour images of a violin and an opened score, above at the rim – trailing birch branches. |
| A brief annotation | Pyotr Ilyich Tchaikovsky (1840-1893) is a very famous composer, conductor, teacher, writer, public figure in music world, the author of more than 80 works. His piano concertos and other works for piano, seven symphonies, four suites, symphonic music, ten operas, ballets ("Swan Lake", "Sleeping Beauty", "Nutcracker"), more than 100 lyrical songs are an extremely significant contribution to the world musical culture. His name is one in the top list among the composers whose works are most frequently performed around the world. |
| Designer | The artist: S.V. Sutyagin. The sculptor: E.A. Yastrebova |
| Producer | Moscow Mint of Goznak (Russia) |
---
Вот он, стиль советских юбилейных рублей. Как бы вернуть такие монеты в обращение! Получить такую монету на сдачу в магазине - это МЕЧТА! Где пропаганда среди населения? Народ забывает свою историю, потому что надо постоянно напоминать, и через памятные монеты в обороте тоже!
Юбилейная монета
Quote
Николай Тютин пишет:
Вот он, стиль советских юбилейных рублей. Как бы вернуть такие монеты в обращение! Получить такую монету на сдачу в магазине - это МЕЧТА! Где пропаганда среди населения? Народ забывает свою историю, потому что надо постоянно напоминать, и через памятные монеты в обороте тоже!
Добавить нечего , поддерживаю данный крик души на 100 %