Coin "Filigree Year of the Goat 2015"
Please register to vote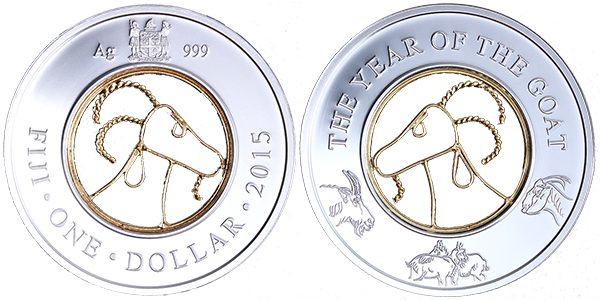 | | |
| --- | --- |
| Name | Filigree Year of the Goat 2015 |
| Presented by | Treasures of Oz Pty Ltd (Australia) |
| Nominal value | 1 new zealand dollar (Fiji) |
| Metal | Silver 999° |
| Weight | 20,5 g |
| Diameter | 38,61 mm |
| Mintage | 2 500 pcs. |
| Production quality | Proof with Filigree Gilded Silver Insert |
| Description of obverse and reverse | The silver coin's obverse side bears the coat of arms of Fiji and the legend "One Dollar." The silhouette of the goat's head is, of course, just as beautiful on this side because of the open filigree work. This ring style coin features a legend on the reverse side that says "The Year of the Goat," and it also includes two depictions of goat heads at the bottom of the ring as well as two standing goats between them, in addition to the beautiful styled filigree goat head in the centre of the ring. This detailed filigree work consists of fine wire woven in pure silver and plated in pure gold. No wonder it is the centrepiece of this coin! |
| A brief annotation | The 2015 Filigree Goat 20.5g Silver Fiji Coin to mark the Year of the Goat in unusual style. In Chinese astrology, the Year of the Goat represents those who are kind, considerate and hardworking. Famous people born under this sign include Michelangelo and Mark Twain. |
| Designer | Treasures of Oz Pty Ltd (Australia) |
| Producer | Mint of Norway |
---
Хочется отметить , что многие монеты посвящены году козы (2015 ) в своем большинстве они скучны и однообразны , однако одна монета выбивается из данной когорты , соей простотой и детской наивностью , хоть и произведена мастерами -ювелирами своего дела .

Соглашусь с УСПЕХОМ.
Да, среди толпы различных баранов, филигранная вставка - удачное идейное решение.
Оригинальное исполнение года козы
Надеемся
, что появится продолжение серии данных монет в одном дизайнерском ключе .