Coin "Cupcake Invitation"
Please register to vote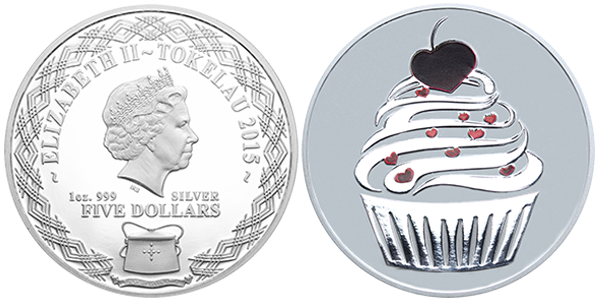 | | |
| --- | --- |
| Name | Cupcake Invitation |
| Presented by | Treasures of Oz Pty Ltd (Australia) |
| Nominal value | 5 new zealand dollar (Tokelau) |
| Metal | Silver 999° |
| Weight | 31,1 g |
| Diameter | 38,61 mm |
| Mintage | 2 500 pcs. |
| Production quality | Proof |
| Description of obverse and reverse | The obverse side of the 2015 Cake 1oz Silver Coloured Proof Tokelau Coin features a cameo of Queen Elizabeth II, the monarch of Tokelau. She is surrounded by an intricate design just inside the edge of the coin, and the Tokelau badge resides under the legend that indicates the coin's denomination and purity. The reverse side of the coin bears a freshly baked cupcake that looks as though it is sitting in a shiny wrapper, thanks to the mirror finish on the relief design. Rising above the cake is a mound of light and creamy frosting, sprinkled with tiny red candy hearts and topped with a cherry. |
| A brief annotation | Cupcakes are sweet treats that are the right amount of scrumptiousness. The small morsels of cake can delight the senses in so many ways, from the inevitable smell of vanilla and sugar as the cakes bake, to the visual delight of a cupcake that has been specially decorated. Very few people turn down the offer of a cupcake. Whether you like to bake, you enjoy cake, or you have a special someone in mind, you may celebrate with a silver coin that is guaranteed calorie-free. |
| Designer | Treasures of Oz Pty Ltd (Australia) |
| Producer | B.H. Mayer (Germany) |
---
Еще одна лажа. Что следующее? Хотдог? БигМак? Круасан?
Очередной "шедевр"

Веселая монета, которая является прекрасным дополнением к монете "Приглашение на кофе". Еще одно доказательство того, как можно обыденные вещи сделать чуть-чуть необычными.
Жетон на пирожное .... Про сахар забыли ...
А такая бы монета получилась с кусочком сахара рафинада ..