Coin "Creatures of Myth & Legend – Capricornus"
Please register to vote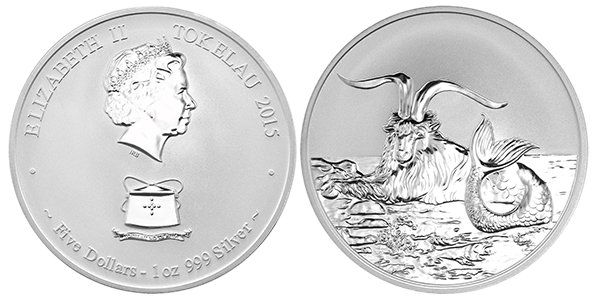 | | |
| --- | --- |
| Name | Creatures of Myth & Legend – Capricornus |
| Presented by | Treasures of Oz Pty Ltd (Australia) |
| Nominal value | 5 new zealand dollar (Tokelau) |
| Metal | Silver 999° |
| Weight | 31,1 g |
| Diameter | 38,61 mm |
| Mintage | 2 500 pcs. |
| Production quality | Reverse Proof |
| Description of obverse and reverse | Look on the observes side of the coin, and you will see an image of Queen Elizabeth II, portrayed in the same detail as the image on the coin's opposite side. The monarch's distinctive brow, ornate crown and perfectly coiffed hair stand out. So does the badge of Tokelau and the legends that reveal information about this coin's denomination and tender value. Because this is a reverse proof quality coin, you can see magnificent detail in the image. The long fur of the Capricornus is just as detailed as are the scales that make up the tail. Not only do the rocks look chiselled, but also you can almost hear the sea lapping over them, and you can see the sea foam as it splashes up. |
| A brief annotation | The legend of Capricornus is, perhaps, one of the oldest stories from mythology. Associated with the nurturing of the Greek god Zeus, Capricornus water later also identified as the lesser god Pan, who grew a fish tail to avoid the wrath of Typhon. With his new tail, Capricornus dove into the water and swam safely away. The simple beauty of this silver coin lies in the juxtaposition of the mirrored field behind the frosted relief image of the Water-Goat, Capricornus. The Capricorn's nimble hooves rest on rocks and his casually curled fish tail rests in the sea. |
| Designer | Treasures of Oz Pty Ltd (Australia) |
| Producer | B.H. Mayer (Germany) |
---
Не хватает в этой монете чего-то
Какой то мутант , внебрачнй сын Бафомета и русалки ? Уж больно злобная морда у ...., нет у козла ...

И снова вопрос - будет ли в этой серии Водолей?))

Очень стильная строгая классическая серебряная монета.