Coin "100th Anniversary of In Flanders Fields"
Please register to vote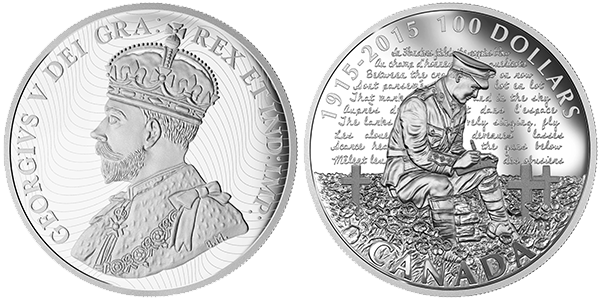 | | |
| --- | --- |
| Name | 100th Anniversary of In Flanders Fields |
| Presented by | Royal Canadian Mint |
| Nominal value | 100 dollars |
| Metal | Silver 999,9° |
| Weight | 311,53 g |
| Diameter | 76,25 mm |
| Thickness | 7,35 mm |
| Mintage | 500 pcs. |
| Production quality | Proof finish with engraving |
| Description of obverse and reverse | The reverse design by Canadian artist Tony Bianco features beautifully detailed engraving that transports the viewer back to May 1915, back to the fields near Ypres. The author of the poem, Lieutenant Colonel John McCrae, occupies the centre of the reverse's image field; identified as medical personnel by the cross shoulder patch on his uniform, McCrae is seated on a pile of rubble with pen and paper in hand. Surrounded by a sea of poppies blooming between the makeshift graves of fallen soldiers, McCrae begins to write In Flanders Field, with the title and first paragraph of the poem in both English and French inscribed behind him. |
| A brief annotation | From the tragedies of the First World War came a timeless poem: 2015 marks the 100th anniversary of the poem In Flanders Fields, which was written by Canadian physician Lieutenant Colonel John McCrae amid the horrors of the Second Battle of Ypres in 1915. Through his hauntingly poignant poem, McCrae succeeded in giving a voice to the 60,000 Canadians who ultimately lost their lives in the First World War, and ignited an international effort to keep their legacy alive. To mark this anniversary, this striking coin is a solemn remembrance of the 600,000 Canadians who served their country from 1914 to 1918, and those who made the ultimate sacrifice – lest we forget. |
| Designer | Tony Bianco |
| Producer | Royal Canadian Mint |
---
Еще одна шикарная монета и снова тираж и вес!!!
Вес хороший у монеты
Кресты , солдат ..Тематика избита .. Вес , тираж ..разве в этом должна раскрываться вся красота монеты ?