Coin "Poppy coin"
Please register to vote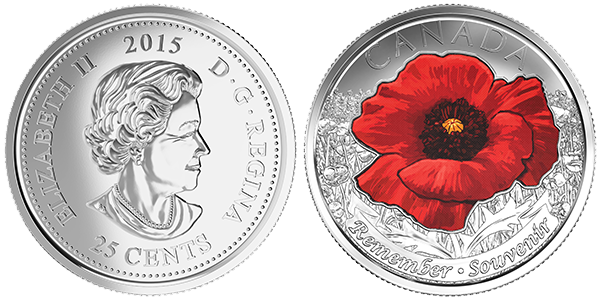 | | |
| --- | --- |
| Name | Poppy coin |
| Presented by | Royal Canadian Mint |
| Nominal value | 25 cents |
| Metal | Nickel-plated steel |
| Weight | 4,4 g |
| Diameter | 23,88 mm |
| Thickness | 1,58 mm |
| Mintage | 6 250 000 pcs. |
| Production quality | Pad printing |
| Description of obverse and reverse | The obverse features the present effigy of Her Majesty Queen Elizabeth II by Susanna Blunt. The reverse of this coin depicts a large poppy in the foreground surrounded by smaller poppies in the background. The legend "REMEMBER-SOUVENIR" is also engraved in a banner at the bottom of the coin. |
| A brief annotation | During the First World War, the landscape of France and Belgium turned to fields of mud where little or nothing could grow. But unusually warm temperatures in April and May 1915 caused vibrant red poppies to appear amidst the chaos and destruction of the Second Battle of Ypres. t was the sight of these resilient flowers blooming on the battlefield that inspired a Canadian military doctor to write a poem in honour of his fallen comrades. And so it was, in early May a century ago, that Lieutenant-Colonel John McCrae composed In Flanders Fields, now one of our nation's best-known literary works. The poem inspired an American woman, Moina Michael, to make and sell red silk poppies to be worn in remembrance. The tradition was brought to England by Anna Guérin, and the idea of the poppy as memorial flower quickly spread through the Commonwealth. |
| Designer | Tony Bianco |
| Producer | Royal Canadian Mint |
---
Красиво, для подарка может подойти
Для циркуляционной монеты сильное и смелое решение ... Нужно будет ее добавить себе в планы приобретения .
красивая монета ! голосую

Яркая монета, цветок словно настоящий. Очень хорошо, что так подробно все описано в аннотации - строгий дизайн становится еще более актуальным и понятным.

hollister
,
pacers jersey
,
michael kors
,
ralph lauren outlet online
,
longchamp
,
north face
,
discount shoes
,
nike air max
,
hollisterco
,
reebok
,
replica rolex
,
polo ralph lauren outlet online
,
bucks jersey
,
michael kors bags
,
nba jersey
,
handbags outlet
,
hollister
,
ralph lauren
,
michael kors purses
,
longchamp black friday
,
oakley vault
,
adidas online
,
burberry
,
http://www.nba-shoes.com/
,
air jordan shoes
,
jordan
,
ralph lauren
,
new orleans pelicans
,
indoor soccer shoes
,
polo ralph lauren
,
adidas
,
cheap jerseys
,
instyler
,
true religion jeans women
,
northface
,
coach handbags outlet
,
nike outlet
,
red bottom shoes
,
trail blazers jersey
,
ray ban
,
chi hair
,
ralph lauren online shop
,
prada sunglasses
,
cheap mlb jerseys
,
oakley sunglasses outlet
,
katespade
,
fendi bags
,
air max one
,
air max 90
,
michael kors
,
hermes
,
christian louboutin shoes
,
horloges
,
seahawks nfl jersey
,
oakley
,
dwyane wade jersey
,
free run
,
tommy hilfiger
,
polo ralph lauren outlet
,
vikings nfl jersey
,
rams nfl jersey
,
cowboys nfl jersey
,
baseball bats
,
ray-ban sunglasses
,
new balance shoes
,
nike
,
adidas outlet
,
nike air max 2014
,
north face backpacks
,
giuseppe zanotti sneakers
,
hermes bags
,
coach purses factory
,
denver nuggets jersey
,
san antonio spurs jersey
,
ray ban outlet
,
swarovski crystal
,
fred perry outlet
,
beats by dr dre
,
ray ban
,
long champ
,
texans nfl jersey
,
wizards jersey
,
cheap glasses
,
birkenstock taschen outlet
,
barbour jackets
,
longchamp outlet
,
dre beats
,
michael kors outlet
,
salvatore ferragamo
,
barbour outlet online
,
coach store outlet
,
cheap ray ban
,
bcbg max azria
,
steelers nfl jersey
,
oakley sunglasses cheap
,
burberry handbags
,
vans shoes
,
air max
,
atlanta hawks jersey
,
versace clothes
,
ralph lauren polo
,
lunette ray ban
,
pandora
,
ralph lauren
,
ralph lauren polos
,
nike air max
,
ray ban outlet
,
nike
,
nike free run 5.0
,
cheap nike shoes
,
packers nfl jersey
,
birkenstock
,
ferragamo shoes
,
michael kors outlet
,
nike tracksuits
,
supra footwear
,
nike air max
,
nfl jerseys
,
juicy couture
,
tommy hilfiger
,
kobe bryant jerseys
,
omega watches
,
coach store
,
nike
,
prada shoes
,
nike.com
,
oakley
,
coach bags
,
eagles nfl jersey
,
cheap oakley sunglasses
,
marc jacobs
,
fitflop outlet
,
cheap mlb jerseys
,
vans
,
pandora uk
,
cheap jerseys
,
michael kors outlet
,
hilfiger outlet
,
true religion jeans men
,
oakley sunglasses
,
tommy hilfiger
,
ray bans
,
true religion
,
ray ban sunglasses outlet
,
mcm bags
,
ray ban wayfarer
,
ipad mini cases
,
jimmy choo outlet
,
eyeglasses stores
,
marc jacobs
,
browns nfl jersey
,
colts nfl jersey
,
north face
,
49ers nfl jersey
,
golden state warriors jerseys
,
falcons nfl jersey
, [b][/b],
celine bags
,
rolex watches
,
ray ban outlet
,
redskins nfl jersey
,
longchamp handbags
,
north face outlet
,
swarovski canada
,
coach handbags
,
michael kors outlet
,
oakley vault
,
nike outlet store
,
converse
,
burberry outlet store
,
air jordan retro
,
kids hoodies
,
nike roche run
,
jimmy choo shoes
,
longchamp
,
kevin durant jersey
,
louboutin
,
longchamp
,
coach store online
,
ecco outlet online
,
jazz jersey
,
north face
,
jets nfl jersey
,
clippers jersey
,
dansko outlet
,
lions nfl jersey
,
cheap jerseys
,
phoenix suns
,
michael kors
,
woolrich mens jackets
,
the north face outlet
,
birkenstock shoes
,
hollister co
,
mbt mens shoes
,
ed hardy
,
lunette oakley
,
polo ralph
,
nike
,
bills nfl jersey
,
rolex replica
,
nike free run
,
air max
,
designer handbags
,
occhiali ray ban