Coin "70 Years of Great Victory"
Please register to vote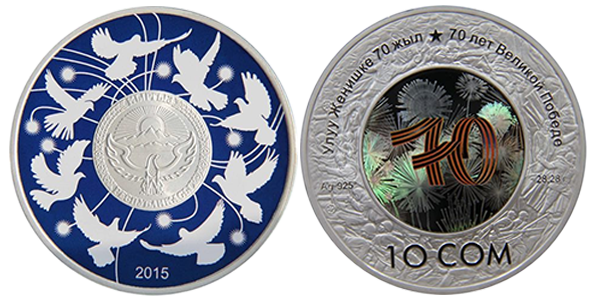 | | |
| --- | --- |
| Name | 70 Years of Great Victory |
| Presented by | The National Bank of the Kyrgyz Republic |
| Nominal value | 10 som |
| Metal | Silver 925° |
| Weight | 28,28 g |
| Diameter | 38,60 mm |
| Thickness | 2,7 mm |
| Mintage | 1 000 pcs. |
| Production quality | Proof, hologram, color pad printing |
| Description of obverse and reverse | The main theme of the obverse of the coin is an image of the ceremonial salute in honor of the Great Victory Day with the number "70" made with the St. George ribbon by pad printing. The color image of the salute in the form of bright flashes made by a hologram, while round the edges of the coin are fragments of the battlefield. The theme of a battlefield has been taken from the bas-relief of the monument devoted to Major-General I. V. Panfilov, located at the entrance of the Park of Bishkek city, named after him. The author is a national artist of the Kyrgyz SSR O.M. Manuilova. The front of the coin also shows the name of the coin and its denomination. The reverse of the coin depicts the white doves, which symbolize Peace, against the background of the blue sky, made by pad printing. The Emblem of the Kyrgyz Republic is in the center of the coin. |
| A brief annotation | May 9, 2015, marks 70 years since the Victory in the Great Patriotic War. It was exactly on this day when the joyful news - the long-awaited word "Victory!" announced in all corners of our motherland. Being in their irreparable debt must not let us forget the heroic tragic page in the annals of our State. In honor of this momentous anniversary, in the framework of the series "Historical Events", the National Bank of the Kyrgyz Republic issued a silver coin "70 years of Great Victory". |
| Designer | Murat Sagimbaev |
| Producer | Kazakhstan Mint |
---

В этой монете мне нравится подбор и сочетание цветов.
Интересно, необычно
Достойная монета на столь великий праздник День Победы , прекрасный продуманный дизайн .

красиво

hollister
,
pacers jersey
,
michael kors
,
ralph lauren outlet online
,
longchamp
,
north face
,
discount shoes
,
nike air max
,
hollisterco
,
reebok
,
replica rolex
,
polo ralph lauren outlet online
,
bucks jersey
,
michael kors bags
,
nba jersey
,
handbags outlet
,
hollister
,
ralph lauren
,
michael kors purses
,
longchamp black friday
,
oakley vault
,
adidas online
,
burberry
,
http://www.nba-shoes.com/
,
air jordan shoes
,
jordan
,
ralph lauren
,
new orleans pelicans
,
indoor soccer shoes
,
polo ralph lauren
,
adidas
,
cheap jerseys
,
instyler
,
true religion jeans women
,
northface
,
coach handbags outlet
,
nike outlet
,
red bottom shoes
,
trail blazers jersey
,
ray ban
,
chi hair
,
ralph lauren online shop
,
prada sunglasses
,
cheap mlb jerseys
,
oakley sunglasses outlet
,
katespade
,
fendi bags
,
air max one
,
air max 90
,
michael kors
,
hermes
,
christian louboutin shoes
,
horloges
,
seahawks nfl jersey
,
oakley
,
dwyane wade jersey
,
free run
,
tommy hilfiger
,
polo ralph lauren outlet
,
vikings nfl jersey
,
rams nfl jersey
,
cowboys nfl jersey
,
baseball bats
,
ray-ban sunglasses
,
new balance shoes
,
nike
,
adidas outlet
,
nike air max 2014
,
north face backpacks
,
giuseppe zanotti sneakers
,
hermes bags
,
coach purses factory
,
denver nuggets jersey
,
san antonio spurs jersey
,
ray ban outlet
,
swarovski crystal
,
fred perry outlet
,
beats by dr dre
,
ray ban
,
long champ
,
texans nfl jersey
,
wizards jersey
,
cheap glasses
,
birkenstock taschen outlet
,
barbour jackets
,
longchamp outlet
,
dre beats
,
michael kors outlet
,
salvatore ferragamo
,
barbour outlet online
,
coach store outlet
,
cheap ray ban
,
bcbg max azria
,
steelers nfl jersey
,
oakley sunglasses cheap
,
burberry handbags
,
vans shoes
,
air max
,
atlanta hawks jersey
,
versace clothes
,
ralph lauren polo
,
lunette ray ban
,
pandora
,
ralph lauren
,
ralph lauren polos
,
nike air max
,
ray ban outlet
,
nike
,
nike free run 5.0
,
cheap nike shoes
,
packers nfl jersey
,
birkenstock
,
ferragamo shoes
,
michael kors outlet
,
nike tracksuits
,
supra footwear
,
nike air max
,
nfl jerseys
,
juicy couture
,
tommy hilfiger
,
kobe bryant jerseys
,
omega watches
,
coach store
,
nike
,
prada shoes
,
nike.com
,
oakley
,
coach bags
,
eagles nfl jersey
,
cheap oakley sunglasses
,
marc jacobs
,
fitflop outlet
,
cheap mlb jerseys
,
vans
,
pandora uk
,
cheap jerseys
,
michael kors outlet
,
hilfiger outlet
,
true religion jeans men
,
oakley sunglasses
,
tommy hilfiger
,
ray bans
,
true religion
,
ray ban sunglasses outlet
,
mcm bags
,
ray ban wayfarer
,
ipad mini cases
,
jimmy choo outlet
,
eyeglasses stores
,
marc jacobs
,
browns nfl jersey
,
colts nfl jersey
,
north face
,
49ers nfl jersey
,
golden state warriors jerseys
,
falcons nfl jersey
, [b][/b],
celine bags
,
rolex watches
,
ray ban outlet
,
redskins nfl jersey
,
longchamp handbags
,
north face outlet
,
swarovski canada
,
coach handbags
,
michael kors outlet
,
oakley vault
,
nike outlet store
,
converse
,
burberry outlet store
,
air jordan retro
,
kids hoodies
,
nike roche run
,
jimmy choo shoes
,
longchamp
,
kevin durant jersey
,
louboutin
,
longchamp
,
coach store online
,
ecco outlet online
,
jazz jersey
,
north face
,
jets nfl jersey
,
clippers jersey
,
dansko outlet
,
lions nfl jersey
,
cheap jerseys
,
phoenix suns
,
michael kors
,
woolrich mens jackets
,
the north face outlet
,
birkenstock shoes
,
hollister co
,
mbt mens shoes
,
ed hardy
,
lunette oakley
,
polo ralph
,
nike
,
bills nfl jersey
,
rolex replica
,
nike free run
,
air max
,
designer handbags
,
occhiali ray ban