Coin "Putin – the person of the year"
Please register to vote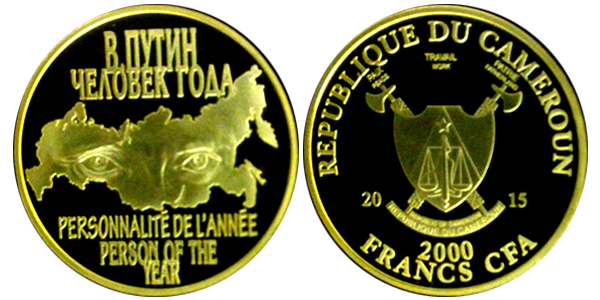 | | |
| --- | --- |
| Name | Putin – the person of the year |
| Presented by | Proof Association |
| Nominal value | 2000 francs CFA |
| Metal | Gold 900° |
| Weight | 23 g |
| Diameter | 30 mm |
| Thickness | 2,4 mm |
| Mintage | 30 pcs. |
| Production quality | Proof |
| Description of obverse and reverse | Obverse: State Emblem of the Republic of Cameroon, the inscription «REPUBLIQUE DU CAMEROUN», face value, year of issue. Reverse: the portrait of Vladimir Putin in profile against the map of Russia, the inscriptions in French, English and in Russian languages "Putin - the person of the year". |
| A brief annotation | The coin is dedicated to the President of the Russian Federation Vladimir Putin, who heads the "List of the World's most influential people" according to the American magazine Forbes in 2014 and 2015 and the French France-Presse news agency in 2014. In December 2014 the British newspaper The Times also named president of the Russian Federation, "the person of the year in the international arena". |
| Designer | V.B. Anan'in |
| Producer | Numiscom GmbH & Co. KG, Germany |
---

Оригинальная монета!

Фрагмент портрета в виде карты - замечательная идея! Браво автору и изготовителю!
монету можно назвать В.В. в рваной балаклаве ... Монета не несет никакого эстетического удовольствия , и по моему мнению создана чисто " срубить бабла " на популярности нашего президента . Самая неудачная монета из всех представленных .
ничего интересного в этой монете не вижу

Вид монеты навеял воспоминания о книге Оруэлла.
Большой брат следит за вами. (с)
В общем, неудачный дизайн.

On the surface, the loving butterfly tells the story of a scene in the woods, perhaps in the forest where it is possible to have a foot in Switzerland and another
replique montre
in France. The basis of this masterpiece is the Petite Heure Minute dial, whose expansive space makes the perfect scene, allowing the characters to steal the scene. A previous perfect example of this was the 2015 Butterfly Journey. What we note is that the butterfly of this collection is placed almost in the same place Than on the butterfly magnet automaton, becoming the focus of the Dial rather than displaying the time, or at least putting them on the same footing. I like it because it reminds me To stop and feel the roses and stop wanting to rush around under the pressure of time. The three-dimensional of the roses
replique montre rolex
Butterfly delicacy makes it seem like it came to life, just a push of the crown key to put the golden butterfly gracefully beating its wings, which it does 300 times over about two minutes.

Le boîtier arrière transparent
replique montre
les mouvements automatiques japonais. Depuis que j'ai acheté ma première montre suisse, il n'y a pas longtemps, j'aimerais avoir toutes mes répliques avec des mouvements de qualité suisses. Il y a une différence notable en ce qui concerne l'exactitude de ces instruments de chronométrage. Même les secondes ont un bon balayage et cette
fausse montre
est exacte, je l'aurais préférée comme une réplique suisse de Patek Philippe Calatrava. Même ainsi, je suis très satisfait de la qualité de cette montre. Son design est son atout le plus important.
Ce Vacheron Constantin Ultra Fine 1955 n'était pas une pièce d'horlogerie que je me suis faite. C'était un cadeau pour mon oncle qui n'est pas un fan de
replique montres
, mais, même si, il l'a vraiment apprécié. Si la montre Patek Philipe Calatrava avait un design simple, celle-ci est encore plus simple et c'est certainement un plus. Même si j'aime des montres plus décontractées, j'apprécie aussi une montre-robe avec un design simple et élégant.
Cette
réplique montres
Vacheron Constantin est fine et élégante. L'original est encore plus mince avec 1,9 mm, mais ce n'est pas une différence notable. Puisque l'original coûte environ 30k, je me suis dit, comme je le fais à chaque fois, qu'une réplique est un choix beaucoup plus sage.
replique omega

Een goed uitziend, evenwichtig, geel verguld roestvrij staal met een zwarte wijzerplaat en zwarte behuizing. Kijkt scherp en schoon en de
replica horloges
markers en handen passen ook bij het tweekleurige thema. Het is een cool model voor zeker en makkelijk te passeren voor een origineel. Bekijk meer details over dit
replica rolex
in zijn foto review en laat me weten wat je er van vindt.
Ik hou van de close-up die ik schoot op deze. Ziet er echt goed uit en u kunt zien dat alle belangrijke details van slechts één foto zijn. Het is een stevig geel vergulde
replica breitling
dat legitiem uitziet. Bekijk al de details van dit Rolex Submariner geel goud replica horloge in zijn foto review als er ook modus foto's uit verschillende hoeken zijn.
Deze gele gouden blauwe wijzerplaat en blauwe bezel replica Submariner horloge is het beste
replique rolex
dat ik in een paar jaar nu heb beoordeeld. Het is nog steeds nummer één in mijn boek en ik heb goede feedback elke keer dat ik het aanbevolen heeft. Bekijk de volledige video review op dit Rolex Submariner geelgoud tweekleurig replica horloge om het vanuit alle hoeken te zien.


De nombreuses marques de
replique montre
célèbres ont des collections à des fins sportives et la plupart sont conçues pour les hommes. Mais nous pouvons voir que le statut des femmes s'est amélioré à l'heure actuelle. De plus en plus de marques lancent de nouvelles lignes conçues pour les
montre replique
femmes. Omega est une marque horlogère qui intègre bien les éléments féminins dans ses produits.
Les
fausse montre
Omega Speedmaster avec des mouvements chronographes coaxiaux conservent une sportivité constante et des performances remarquables. Les marqueurs d'heure sont des nombres arabes blancs luminescents. Les luminescents heures et minutes montrent l'heure sur le cadran blanc de nacre. L'autre main grise dans le centre est utilisée pour
replique rolex submariner
la fonction de chronographe. Il existe trois sous-cadrans blancs aux mains grises. Une petite sous-composante de secondes est réglée à 9 heures. Deux autres sous-cadrans sont utilisés comme compteur de 30 minutes et de 12 heures à 3 et 6. Il y a une ouverture de date dans le
replique montre suisse
compteur de 12 heures.