Coin "Copernicus – 500 years of heliocentric theory"
Please register to vote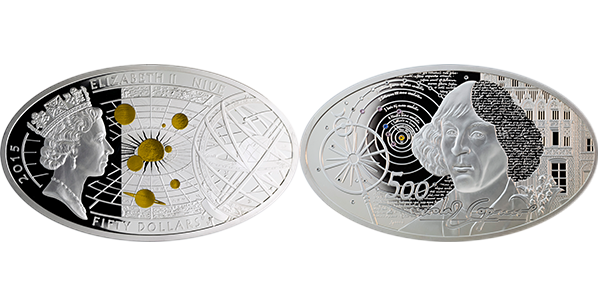 | | |
| --- | --- |
| Name | Copernicus – 500 years of heliocentric theory |
| Presented by | International Coin House AG |
| Nominal value | 50 dollars (Niue Island) |
| Metal | Silver 999,9° |
| Weight | 500 g |
| Diameter | 145 x 80 mm, oval |
| Thickness | 7 mm |
| Mintage | 99 pcs. |
| Production quality | Proof with microtext, gold plating, and Swarovsky crystals inserts |
| Description of obverse and reverse | Obverse: In the center of the coin an image of the then –known solar system including the heliocentric theory. Respectively revolve around the Sun, Mercury, Venus, Earth, Mars, Jupiter and Saturn. Sun and planets are pad printed. On the left is shown the profile of Queen Elizabeth II, on the right armillary sphere, also known as spherical astrolabe – astronomical instrument used by Nicolaus Copernicus. Around the inscriptions "Elizabeth II ", "Niue ", "2015" and "Fifty dollars. Reverse: In the centre of the coin the famous portrait of the Nicolaus Copernicus from the townhall in Torun (Poland) on the background of the manuscript of "De revolutionibus orbium coelestium" – a work in which the astronomer laid out his theory. Near the portrait – lilies of the valley – medieval symbol of medicine and science often placed at the portraits of Nicolaus Copernicus. Under the portrait – his signature and the number of years that have passed since the creation of the heliocentric theory. Among the handwritten notes of Copernicus – a model of the solar system. Planets are marked with multicolored Svarovski crystals. On the left – a symbolic representation of the heliocentric theory. In the centre – an astronomical symbol of the sun, on the circle around the sun – symbols of Earth and Moon. On the right – the facade of Copernicus house. Inscriptions: "500" and the hallmark " Ag999.9 ". |
| A brief annotation | Although the full description of the heliocentric system with all the mathematical proves was finished by N. Copernicus in 1543 (in the work "De Revolutionibus Orbium Coelestium") the idea of the heliocentric system was described by Copernicus in 1515. So, in 2015 we are celebrating 500 years from the moment of inventing the theory by Copernicus. This event is a main topic of the coin. The coin contains a part of the text of the Copernicus manuscript minted in the form of microtext (partially on Copernicus hair) which is readable under the magnifying glass. Each of the coins has also 25 Swarovsky crystal inserts symbolizing planets of the Solar system (colored crystals) and stars (white crystals). |
| Designer | International Coin House AG |
| Producer | B.H. Mayer's Mint Karlsfeld, Germany |
---
Много мелких деталей на крупной монете , тираж удивил ..Больше плюсов не нашел ..
Мне понравилась.
Много маленьких деталей, но учитываю что вес 500 грамм, вроде бы даже ничего

Красивая оригинальная монета!

juicy couture outlet
,
michael kors outlet
,
phoenix suns
,
soccer shoes
,
burberry handbags
,
watches canada
,
kate spade outlet online
,
ed hardy
,
swarovski jewelry
,
pandora jewelry
,
pandora schmuck
,
jordans
,
cheap jerseys
,
dallas mavericks jerseys
,
new balance shoes
,
polo ralph
,
polo ralph lauren
,
jimmy choo outlet
,
polo ralph lauren
,
long champ
,
longchamp outlet
,
michael kors handbags
,
adidas outlet
,
dansko outlet
,
giuseppe shoes
,
juicy couture
,
beats by dr dre
,
michael kors outlet
,
ferragamo shoes
,
burberry outlet
,
true religion jeans women
,
north face
,
cavaliers jerseys
,
bills nfl jersey
,
cheap clothes
,
coach handbags
,
broncos nfl jersey
,
giants nfl jersey
,
mcm bags
,
ipad mini cases
,
burberry handbags outlet
,
tommy hilfiger
,
oakley sunglasses cheap
,
longchamp handbags
,
burberry
,
ralph lauren factory store
,
mont blanc
,
texans nfl jersey
,
burberry handbags outlet
,
ravens nfl jersey
,
givenchy handbags
,
instyler
,
prada outlet
,
coach store outlet
,
ray ban outlet
,
raptors jersey
,
asics
,
nike
,
michael kors handbags
,
kings jersey
,
michael kors
,
cheap oakley sunglasses
,
adidas outlet
,
philipp plein clothing
,
converse shoes
,
golden state warriors jerseys
,
nike air yeezy
,
ferragamo shoes
,
nike Air Max Plaza
,
hollister co
,
ray ban
,
converse sneakers
,
north face jackets
,
red bottom shoes
,
oakley vault
,
cheap glasses
,
dsquared2 jeans
,
under armour curry
,
coach outlet online
,
softball bats
,
jimmy choo shoes
,
kids hoodies
,
vans
,
knicks jersey
,
tommy hilfiger
,
air max 2015
,
prada sunglasses
,
jets nfl jersey
,
new balance
,
kevin durant jersey
,
cheap jerseys
,
swarovski jewelry
,
timberland shoes
,
patriots nfl jersey
,
cartier montres
,
hogan outlet
,
vans shoes
,
vikings nfl jersey
,
nike outlet
,
iphone 5 cases
,
nike free
,
timberland boots
,
coach handbags outlet
,
fendi bags
,
hilfiger online shop
,
coach outlet sale
,
nike
,
fred perry outlet
,
vans
,
redskins nfl jersey
,
louboutin uk
,
fitflop outlet
,
michael kors purses
,
michael kors uk
,
timberland outlet
,
roshe
,
michael kors purses
,
woolrich mens jackets
,
air max
,
true religion outlet
,
chi hair
,
michael kors
,
hollisterco
,
lunette ray ban
,
christian louboutin shoes
,
hollister
,
cheap true religion
,
tory burch shoes
,
oakley sunglasses outlet
,
cheap mlb jerseys
,
north face
,
ralph lauren outlet
,
michael kors
,
nike
,
ralph lauren online
,
tn pas cher
,
ralph lauren
,
asics gel
,
marc jacobs
,
cheap nike shoes
,
oakley sunglasses
,