Coin "Finnish Sisu collector coin "
Please register to vote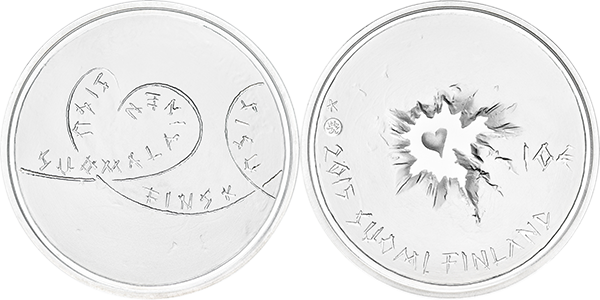 | | |
| --- | --- |
| Name | Finnish Sisu collector coin |
| Presented by | Mint of Finland |
| Nominal value | 10 euro |
| Metal | Silver 500° |
| Weight | 10,0 g |
| Diameter | 28,5 mm |
| Thickness | 2,7 mm |
| Mintage | 25 000 pcs. |
| Production quality | Proof |
| Description of obverse and reverse | The Finnish Sisu coin is a harmonious combination of sensitivity and strength. The collector coin's face depicts two delicately sculpted hearts. While the reverse features a powerful three-dimensional image of a heart pushing through a tear in the centre of the coin. |
| A brief annotation | The official Finnish Sisu collector coin speaks of the importance of perseverance in the face of adversity. The Finnish people have always been driven by their spirit of perseverance (sisu). The modern sisu is wisdom of the heart, taking care of our neighbours and common affairs and, most of all, the courage to dream and set goals. This is manifested as individual survival stories, displays of community spirit and bold innovations. Finnish sisu has placed us on the world stage, providing a universal example of what a little grit can achieve. |
| Designer | Tapio Kettunen |
| Producer | Mint of Finland |
---

Финны, как всегда, на высоте. Тапио Кеттунен, браво! Наконец-то я вижу художественное произведение на этом конкурсе.


Красота в простоте и лаконичности заслуживает высших похвал .

Строгость и стиль в одном "флаконе" - классическая серебряная монета, достойная высокой оценки.
Нет, минимализм меня радует только в решениях прибалтийских художников. Там идейные решения цепляют! Даже прочитав аннотацию, я не понял замысла художника.
В этой монете что-то есть

Выбор шрифта оставляет вопросы и недоумение.