Coin "Space-Time Continuum"
Please register to vote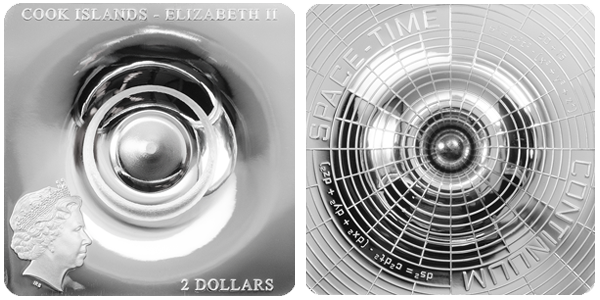 | | |
| --- | --- |
| Name | Space-Time Continuum |
| Presented by | Coin Invest Trust (Lichtenstein) |
| Nominal value | 2 dollars (Cook Islands) |
| Metal | Silver 999° |
| Weight | 15,57 g |
| Diameter | 35 x 35 mm |
| Mintage | 1500 pcs. |
| Production quality | Prooflike. A masterpiece of coin minting with a unique warp-effect. The sphere in the center, portaying a planet, is magnetic and can be removed from the coin. |
| Description of obverse and reverse | Obverse: IRB portrait of Queen Elizabeth II, Cook Islands, 2 Dollars. Reverse: Mathematical formula and warped time-space depiction with magnetic sphere. |
| A brief annotation | The term space-time was created by the mathematician Hermann Minkowski who, in 1908, mathematically proved that space and time cannot be separated from one another. Interestingly, he was the teacher of a certain Albert Einstein at the Polytechnic Institute in Zürich. When in 1905, Minkowski heard about the development of the special theory of relativity by his former student, he apparently said: "I would not really have expected that from Einstein". However, it was Einstein who set the biggest milestone in the research of space-time curvature so far in 1915, with his general theory of relativity. |
| Designer | Coin Invest Trust (Lichtenstein) |
| Producer | B.H. Mayer (Germany) |
---
Победителем в номинации "Оригинальная технология " - на мой взгляд конкурентов у монеты " Пространственно-временной континуум " просто нет , большинство остальных монет откровенно скучны и непритязательны .

Превосходно. Но чья заслуга, Лихтенштейна или островов Кука? При изучении монет островов Кука всегда возникает этот вопрос.
Quote
Сергей пишет:
Превосходно. Но чья заслуга, Лихтенштейна или островов Кука? При изучении монет островов Кука всегда возникает этот вопрос.
Хороший вопрос , однако на островах а правильнее атолле , нет своего монетного двора ... Да и минцмейстеров среди 15 000 человек вряд ли сыщется ... Поэтому чествуем Лихтенштейн и Германию

Монета заслуживает самой высокой оценки за стильный дизайн и необычный вид. Считаю, что для любого человека такая монета может стать украшением в его коллекции. Очень здорово!
Необычно, но лучшее идейное решение - нано-чип на монете. Это будущее нумизматики в защите от умельцев с Али-Экспресс.
Задумка интересная, но ее надо смотреть в живую

Класс!
Браво!

супер)))