Coin "Rainis and Aspazija"
Please register to vote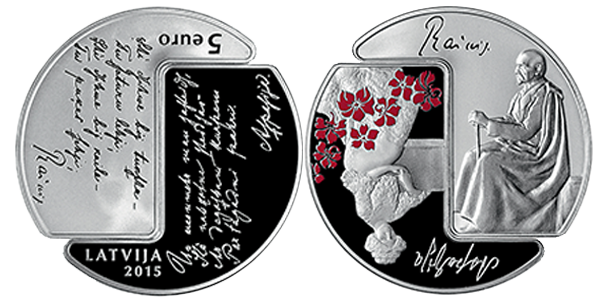 | | |
| --- | --- |
| Name | Rainis and Aspazija |
| Presented by | Bank of Latvia |
| Nominal value | 5 euro |
| Metal | Silver 925° |
| Weight | 31,47 g |
| Diameter | 38,61 mm (consisting of two detachable halves) |
| Thickness | 2,55 mm |
| Mintage | 7 000 pcs. |
| Production quality | Proof, with colour print on the reverse |
| Description of obverse and reverse | Obverse: On the left side - the facsimile of a poem by Rainis and his signature; on the right side - the facsimile of a poem by Aspazija and her signature. The inscription "5 euro" is placed at the top right, and the inscription LATVIJA, with the yeardate 2015 beneath it, are situated at the bottom left. Reverse: Adorned with red flowers, the upside-down image of sitting Aspazija is featured on the left side of the reverse. The image of sitting Rainis appears on the right. The facsimile of Rainis' and Aspazija's signatures appear next to their images. |
| A brief annotation | Rainis (1865–1929) was a Latvian poet, playwright, translator, journalist, politician with a degree in law from the University of St. Petersburg. Aspazija (1865–1943) was a poet, playwright, translator and public figure. Different in their poetic approach (Rainis – ideas; Aspazija – feelings), they were the most prominent couple in Latvian literature and culture. Rainis seemed to hammer his poetry and drama out of iron and steel, whereas Aspazija formed them out of pliant and gentle beeswax. As the wax melts, it spreads a sweet fragrance and the brilliance of sunrays, whereas the iron and steel serve to toughen the nation. This combination helped to bring about the miracle of Latvia's independence. The shape of the coin dedicated to the anniversary of Rainis and Aspazija is perfect to give new life to the images and writings of the classics. |
| Designer | Arta Ozola - Jaunarāja (graphic design); Ligita Franckeviča (plaster model) |
| Producer | UAB Lietuvos monetu kalykla (Lithuania) |
---
Идея " сборных монет " не нова , однако монета добротно изготовлена , контрастна ...В общем , твердая 4 ..

Оригинально.

Красиво. Хорошее исполнение.

Необычный дизайн. Отличное исполнение.
Интересная задумка воплотилась в довольно достойный результат. Хорошая идея.
Интересно! Оригинально сделано!

хорошая задумка!

Может идея и не нова, но исполнение оригинальное. Сделано очень достойно.