Coin "Saint Nicholas the Wonderworker"
Please register to vote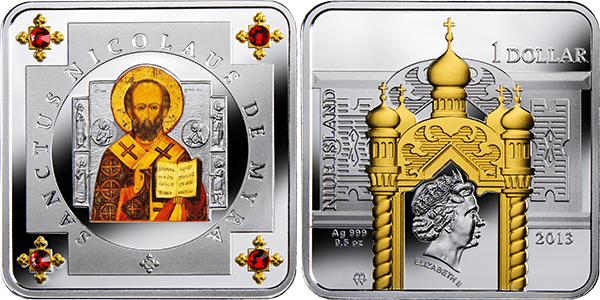 | | |
| --- | --- |
| Name | Saint Nicholas the Wonderworker |
| Presented by | Mint of Poland |
| Nominal value | 1 dollar (Niue Island) |
| Metal | Silver 999° |
| Weight | 15,50 g |
| Diameter | 28,20 x 28,20 mm (square shape) |
| Mintage | 4444 pcs. |
| Production quality | Proof, pad printing, inset – Swarovski elements |
| Description of obverse and reverse | Obverse: in the centre – a pad-printed image of Saint Nicholas the Wonderworker. On both sides of the Saint – miniature figures and scenes from the life of Nicholas. Above – a semi-circular stylized inscription in Latin – «SANCTUS NICOLAUS DE MYRA» (Saint Nicholas of Myra). In the background – a Greek cross with a frosted surface. In each corner – gold-plated classical crosses . In each cross there is embedded a red SWAROVSKI ELEMENTS decoration. Reverse: in the centre – a gold-plated image of a sanctuary. In the background – decorative ornaments. On the right – an inscription: «NIUE ISLAND» (the issuer). Under the dome – an image of Her Majesty Queen Elizabeth II. Below – an inscription: «ELIZABETH II». On the right – the year of issue (2013) and face value (1 DOLLAR). At the bottom – a mint mark (m/w). |
| A brief annotation | The coin commemorates the personage of St. Nicholas who is considered to be a model of compassion, true courage and justice. Numerous accounts on his decent deeds made his name last through the ages, thus he has been remembered as the advocate for the poor and needy. Thanks to his benefaction, he became a symbol of generosity, giving and a contemporary Christmas tradition. The coin is a perfect gift for the namesakes of the Saint, as well as a talisman for those under his care, including sailors, merchants, children and students. |
| Designer | Urszula Walerzak |
| Producer | Mint of Poland |
---

Николай Чудотворец прилично представлен на этом созвездии. Белорусский - гораздо привлекательнее.

смущает только наличие Елизаветы на монете

Королева как-то что-то не туда приспособили.

Королеву как-то что-то не туда приспособили.

С монетой что-то наворотили: и королева, и кристаллы Сваровски. Все-таки монета посвящена святому. Немножко посдержаннее бы.

монетки-иконки, их теперь много стало))